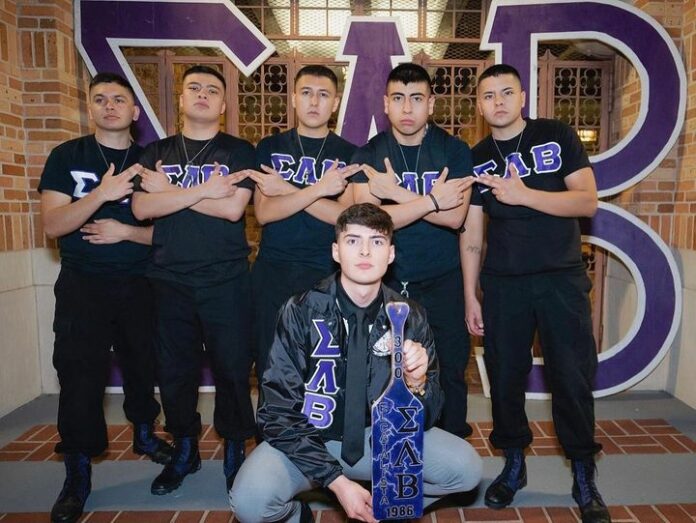 As of 2021, UT's enrollment of first-generation students amounted to 9,387 undergraduates. This created the largest population of first-generation students in the University's history, making up 23% of the total undergraduate student body.
"Everyone wants their child to graduate. That's the ultimate goal, but it's definitely more difficult with my circumstances," said Braulio Franyutti, a first-generation college student and business junior. "(For) a fourth or fifth generation (student) … the trials and tribulations they go through aren't nearly the same."
Franyutti, the director of finance for the Sigma Lambda Beta fraternity, said for first-generation college students, unforeseen challenges can impact the college journey. Franyutti attributes these challenges for first-generation students to a lack of generational knowledge, guidance and resources in navigating college life.
From dealing with culture shock to providing a place to relax on the weekend, having a supportive foundation as a first-generation student can be essential. The Texas Betas, a Latino-based fraternity, focus on providing a foundation for these students' success.
Sigma Lambda Beta, commonly referred to as the Texas Betas, currently has 19 active members. The Betas provide services and community for newcomers to be heard and seen for their specific challenges by fellow first-generation members.
In January of 1996, students Carlos Chavez and Jesus Ortega convened to discuss a solution to the lack of unity in UT's Latino community. They decided to start an organization that would allow the Latino population to flourish together through a bond of brotherhood. On Sept. 4, 1996, the fraternity initiated 23 men in the Chicano culture room of the Texas Union. Since then, the Betas have worked to maintain this brotherhood.
Franyutti said brotherhood for the Betas means more than networking for future business opportunities. The Betas use brotherhood as a means to help their peers navigate their way as first-generation students.
"Most (Beta members) are first-gen currently, (so) they understand the struggles, they've all been through them," Franyutti said. "Whenever you go up to this organization … and you're a first-generation student, they immediately connect with you. Since a lot of them are older, they've already been through those struggles,so they can guide you and give you advice like, 'I know you're maybe having a culture shock right now. … This is a place that you can go.'"
Chapter meetings and events for the Betas also center on supporting members' success. At chapter meetings, the students hear from executive members, chairs who represent the four pillars of the fraternity — cultural awareness, community service, scholarship and brotherhood — and an academic chair who aims to keep GPAs strong.
Joban Hernandez, rising pre-physical training track junior and 2023–24 president of the Betas, said his favorite event is a carne asada, a Mexican tradition of gathering with friends, family and food, held at the beginning of the fall semester. Hernandez said at the event, Betas let loose with laughter, video games and more. Hernandez said this recreational time can be essential for anyone facing the pressure of adapting to college as a first-generation student.
"We usually do it on a Friday or Saturday just to lay off from the school work," Hernandez said. "We always like to emphasize the schoolwork, but a carne asada at the end of the week, that's a good vibe."
The Betas accept new members every fall and spring. Leonardo Lopez, a rising economics senior and Texas Beta active, said the organization hopes to grow their community of support and continue to guide first-generation students.
For Lopez, recruiting is a reassuring experience because he's able to see the security that the Betas provide as an organization that supports first-generation students.
"From what I've seen (while tabling), most people smile. Whenever they're first generation themselves, they're like, 'Wow, that's awesome'," Lopez said. "People seem to appreciate the fact that first-generation students are sticking together."