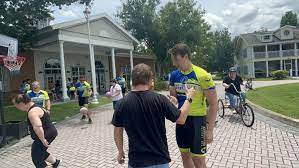 Dylan Kraft was inspired to join Pi Kappa Phi after he learned of its philanthropy and dedication to community involvement, and he's now supporting the fraternity's nonprofit mission through bike rides across the nation this summer.  
The Augusta native recently graduated from Augusta University's School of Computer and Cyber Sciences with a Bachelor of Science in Cybersecurity. Shortly after walking in commencement, he participated in Gear Up Florida as part of The Ability Experience, which has been the philanthropic initiative of Pi Kappa Phi since it was founded in 1977.
Gear Up Florida was started in 1997 to spread a message of acceptance and understanding on behalf of people with disabilities. More than 500 Pi Kappa Phi members have participated in the event, and each year, the team raises more than $80,000 to benefit people with disabilities.
Kraft was far from a natural rider, saying the last time he rode a bicycle was probably in middle school. Around the time he joined the fraternity, his grandfather died after battling cancer, which sent Kraft into a severe depression.
"He was my mentor in a lot of ways, and I really looked up to him for who I wanted to become," Kraft said. "I mourned his passing for a while because he was one of the only good men that I saw in the world and that I personally knew. He would always be there for people. He was really active with helping people in his community without getting anything in return, like picking up hitchhikers after work or driving homeless people to church every Sunday just so they could eat breakfast."
Preparing for Gear Up Florida got him on the bike, and he trained around town or near the Augusta Canal.
"Originally it really sucked, and I was out of shape. I was about 240 pounds when I started, but when May came around, I had lost nearly 40 pounds, and I was really locked in on the purpose that I had, which is to spread awareness for people with disabilities on the bike, which was what kept driving me to work hard."
Ben Armistead, president of AU's Pi Kappa Phi chapter, said those selected to participate in events like Gear Up Florida must go through an interview process. Armistead said Kraft, who is his little brother in the fraternity, is the first person from AU's chapter to participate. Armistead will be the second person next year.
"I'm very excited, and I can't wait to do this," said Armistead, who will graduate in Spring 2024 with a business administration degree from Hull College of Business. "This is one of the most involved things we can do for our fraternity when it comes to helping others."
"With Dylan and his trip, everything he's told me so far had nothing to do with the ride itself and how hard it was. For him it was always about the stops and events and how we help people along on the way. That's what I'm most excited for is getting a chance to meet new people and to bond with them and the other people on the team."
Armistead has been associated with Pi Kappa Phi during his time at AU. After he learned more about it, he knew he wanted to get involved with leadership roles, from working with alumni to serving as vice president, handling recruitment and holding his current role.
"Pi Kappa Phi is the only fraternity with its own nonprofit that we founded and run," Armistead said. "The fraternity helps spread awareness about different disabilities, which we call differently abled. And it gives us a chance to turn our brothers and the organization into servant leaders for the community."
Kraft said working with The Ability Experience has been rewarding, with the focus on putting a smile on someone's face, from helping build wheelchair-accessible ramps to participating in awarding grants. He also said his perspective on life changed after being a part of events like this.
"After a lengthy bike ride, everybody was completely exhausted, but when we arrived and got to see everyone and kids screaming with joy for guys in spandex who are riding up just to see them, to have a conversation with them or to teach them how to throw a baseball or play catch … What it taught me is if these guys have every reason to feel down in life or have every reason to not want to be happy, then what is my excuse? What is my excuse not to find something that I can be glad about? Be happy about and be thankful for the things that I do have in life."
Kraft is now leading the support team as crew chief on the Journey of Hope, which is a cross-country trip that began in Seattle and ends Aug. 15 at the Capitol Lawn in Washington, D.C. Along the way, the team spreads the message of disability awareness through local media and makes stops at partner organizations where they interact with the community.
Track the Journey of Hope through The Ability Experience's Facebook page.