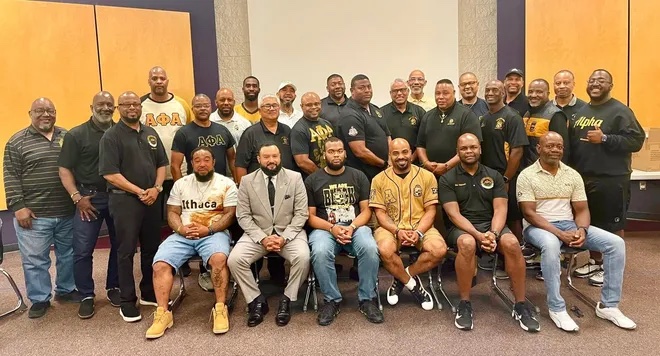 The local chapter of Alpha Phi Alpha fraternity is hosting an event next month at the Cape Fear Botanical Garden in Fayetteville to fund its service projects throughout the year.
Proceeds from In Those Jeans-Day Party will benefit the local Epsilon Rho Lambda Chapter's projects that include youth mentoring, feeding the homeless and providing educational support for local high school students. Other initiatives have been giving annual scholarships to deserving high school students, weekly volunteer work at the Salvation Army Homeless Shelter, the March of Dimes Walk for Babies campaign and feeding the homeless during the holiday season.
The event is 1 p.m. and 7 p.m. Saturday, Aug. 19., at the Cape Fear Botanical Garden, 536 N. Eastern Blvd. Tickets are $50 and can be purchased on www.eventbrite.com by searching "In Those Jeans-Day Party."
In keeping with the party's theme, attendees should dress in denim. The event will also include a live DJ, food trucks, vendors, a cash bar, door prizes, raffles and a 360 camera that takes panoramic photos.
"All of the funds raised from this affair will go back into the- community in the form of the chapter's service projects. When our guests come and party with us, they will do so knowing that their support will be used for the service and benefit of others," Mato Brown, event chairman and member of Alpha Phi Alpha Fraternity Inc., said in the release.
The fraternity's four national philanthropy programs include Project Alpha, Voteless People is a Hopeless People, Brothers Keeper and Go to High School, Go to College.
Alpha Phi Alpha, the first intercollegiate Greek-letter fraternity established for African Americans, was founded on December 4, 1906, at Cornell University in Ithaca, New York.