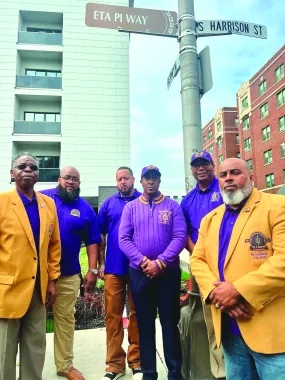 EAST ORANGE — A portion of South Harrison Street has been designated "Eta Pi Way" in honor of the chapter's 50th Anniversary.
Mayor Ted R. Green, the City Council and members of the Omega Psi Phi Fraternity, Inc. Eta Pi Chapter held a re-naming ceremony on Sept. 30 at the Omega Family Resource & Learning Center, formerly home of the Black United Fund, located at 132 South Harrison St.
"Over the half century, the Eta Pi Chapter of Omega Psi Phi Fraternity, Inc, which is a national organization, has been a staple in the Greater Essex County community.
Founded in Montclair, New Jersey in 1973, this chapter has distinguished itself as a national leader in one of the state's largest counties. Eta Pi has been actively engaged in building a stronger, more vibrant community through programmatic initiatives designed to improve the quality of life for residents throughout Essex County, particularly those residing in our urban corridors," said Larry L. Martin, Jr., who is a leader of the organization.
"Our outreach efforts have benefited hundreds of county residents facing life's daily challenges, and in many instances, Eta Pi has filled a critical void for families confronting health, educational and financial difficulties. The street dedication ceremony is indicative of the support and goodwill that Eta Pi has garnered over the past 50 years."
In addition to providing a venue where residents can host community, civic, and charitable events, the chapter sponsors a wide range of meaningful programmatic initiatives, including but not limited to, the Ernest E. Just Mentoring Program, Annual 5K Walk/Run Community Fun Day, Voter Registration and Blood Drives.
Green said he was proud to honor the rich history of the Eta Pi Chapter.