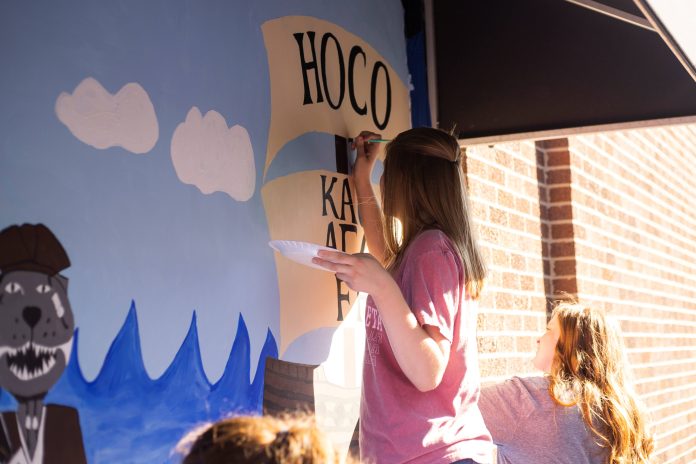 Homecoming week is here. It's a time to celebrate Kansas State and bring the Wildcat community together to showcase purple pride. Greek life plays a big part in K-State Homecoming festivities. Throughout the week, sororities and fraternities team up for various events to get to know different houses on campus and experience this week together.
"Homecoming is an opportunity for each member class to participate in something within the community and bond with different member classes and Greek houses," Taylor Witt, senior in Zeta Tau Alpha, said.
Greek life participates in events like Pant the Chant, Wildcat Request Live (WRL) and the parade. They create synchronized dances for WRL, "pomp" — decorate floats — and spend hours on end with their partner houses to boost their chances of winning these events.
"We [Pi Kappa Alpha] are combined with Alpha Chi Omega and Pi Kappa Phi," Eli Thurston, junior in Pi Kappa Alpha, said. "It has been super fun getting to know them, and it is super good for the rest of the house and especially our new members to get to know other houses on campus."
For Greek life to participate, they have to work with other houses. This joint effort and collaboration distributes the work evenly.
"We have been partnered with Sigma Alpha Epsilon and Alpha Sigma Phi; it's been so fun to work with these houses," Witt, mass communications major, said. "The guys would offer to help in many ways, including building floats, helping paint banners, choreographing and participating in events."
Homecoming has a common theme woven into all events. This year's theme is "Purple Dynasty," and the pairings interpret it in their own way. Houses explored this theme through Taylor Swift, the Kardashians, Star Wars and Queen, bringing the Manhattan community closer by finding unique ways to showcase their purple pride.
"Homecoming to me means a lot as I am a transfer student from the University of Wyoming, where there are also many community events and traditions," Thurston, architecture major, said. "I love being a part of the K-State community and all Manhattan has to offer."