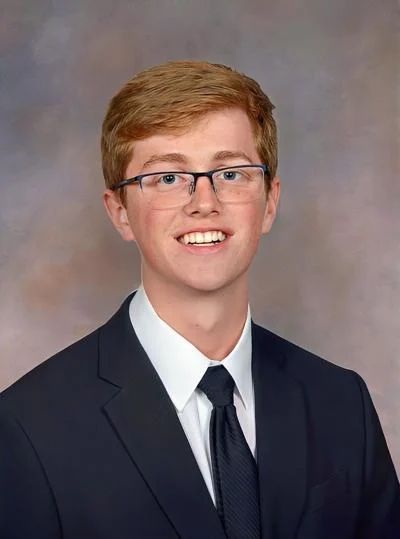 Theta Chi Fraternity has announced that Kyle R. Goodban of the Gamma Phi Chapter at Nebraska Wesleyan University has won the 2022/2023 Reginald E.F. Colley Award.
The award is Theta Chi's most prestigious collegiate honor and annually recognizes distinguished service to alma mater, fraternity and community. Goodban is Gamma Phi Chapter's fourth Colley Award recipient.
Goodban served as chapter president for two terms and as scholarship chair. He was selected among all of Theta Chi's chapter presidents for the fraternity's Chapter Presidents Advisory Council and served from 2021 to 2023. During spring 2023, he completed the fraternity's membership development initiative and earned his distinction as a Resolute Man in Theta Chi Fraternity.
During his time as chapter president, Goodban opened the chapter's health and safety educational events to the NWU campus with topics such as sexual misconduct awareness. His presidency also placed emphasis and importance on Greek Week and maximizing involvement in the campus community for his chapter. During his two terms, Theta Chi was the highest-ranked fraternity during NWU's Greek Week for both years, and Gamma Phi Chapter received the fraternity's Howard R. Alter Jr. Award and the Chapter Achievement Award, which recognizes the top chapters in Theta Chi.
A member of the Order of Omega Greek Honor Society, Blue Key Honor Society, Phi Epsilon Kappa Honor Society and Phi Kappa Phi Honor Society, Goodban graduated with a 3.99 GPA while pursuing his bachelor's degree in athletic training. He completed his clinical rotation with NWU's off-season sports and obtained his certification to practice athletic training in Nebraska.
In 2022, Goodban had the opportunity to travel to Ireland, where he learned from top scholars in the fields of physiotherapy, faculty at Trinity College and University College Dublin, and members of the Irish Gaelic Athletic Association.
Goodban was placed on Nebraska Wesleyan's Academic Honors list every semester and won the NWU Student Life Award. He was recognized as a "Who's Who" among the senior class, as a "Platinum Prairie Wolf," and was the second-ever Greek leader to be awarded Chapter President of the Year twice by the Nebraska Wesleyan Greek community.
Goodban is now in his first year at the University of Nebraska Medical Center in the Doctor of Physical Therapy program.
First presented in 1929, the Colley Award is named for Reginald E.F. Colley, a World War I veteran and past member of Theta Chi's board of directors, the Grand Chapter. As a member of Phi Chapter at North Dakota State University, Colley developed a celebrated reputation as a campus, community and civic leader. He graduated in 1915 and eventually headed overseas to fight for the U.S. Army on the Western Front. Colley died at age 39, but his legacy of leadership continues to inspire future generations of talented Theta Chis. Today, the Colley Award is the fraternity's most prestigious collegiate honor.