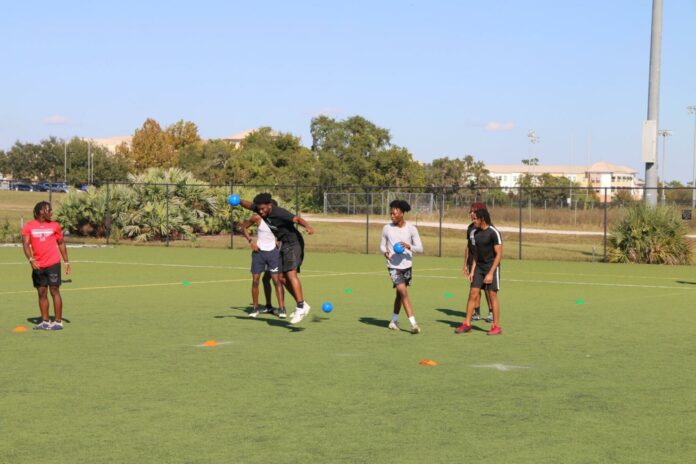 The Recreation and Wellness Center fields at UCF were filled with fun and excitement on Saturday during the Iota Rho chapter's dodgeball tournament to raise awareness and funds for sickle cell disease in the African-American community.
The UCF Iota Rho chapter, a historically black fraternity, held the "Dodge for Change" tournament as a pay-to-play event in collaboration with a non-profit organization called Kids Conquering Sickle Cell Disease. Their goal is to bring awareness about the high rates of sickle cell disease in the African-American community.
The Centers for Disease Controls and Prevention states sickle cell disease affect 100,000 Americans per year while 1 in 13 African American babies are born with the sickle cell trait.
Carla Lewis, founder of KCSCD, said she wants to provide an opportunity for African Americans to combat the disease because her family members have contracted the disease.
"I'm so passionate about sickle cell because I have a child that was born with the disease," Lewis said. "When I realized that there weren't many resources or information about sickle cell disease in the community, it was important for me to make sure that each and every one of us have an avenue in order to have more resources in the community."
The KCSCD set up an informational tent where they distributed bags, pamphlets, and candy to all participants. They said the event was the perfect opportunity to extend their mission to the African American community.
"This is exciting for us because of course networking and partnership is key for us, we want to bring awareness and education to the community," Lewis said.
The participants were able to enjoy the bright sunshine and strong winds that caused some erratic dodgeball throws. The event organizers ensured that everyone had a good time by offering water, music, and comedic commentary during the matches.
At the "Dodge for Change" event, several teams, including The Dark Knights, Chi Omega and Progressive Black Men Inc., competed in a bracket-style tournament. The Dark Knights emerged as the winners and were awarded a custom-made trophy and a small cash prize.
Mackenely Desima, senior kinesiology major and Phi Beta Sigma member, helped organize the tournament with the intent of spreading awareness of sickle cell disease, while still giving students a fun event on campus.
"I found out that sickle cell disease plays a big role in the black community," Desima said. "It's our mission to speak up for the neglected parties and to help them do better, so that we can solve these issues and get the funding that they need."
Desima said she is proud of what he and his fraternity were able to do for the African American community.
"We're very happy that we can help our community and also come up with a fun event to help spread awareness in a different way," Desima said.
Matthieu Rochelin, junior mechanical engineering major and a participant in the tournament, was part of the Progressive Black Men Inc. team. Rochelin and his team felt it was necessary to support the African American community.
"I think that having this charity event and bringing awareness to sickle cell disease, something that's been affecting people of color for years, I think that's a good enough reason to be here," Rochelin said.
Rochelin described how exciting it was to participate in the tournament. He said he enjoyed being in an enjoyable environment while still highlighting an important topic for his community.
"It's really fun! We're all competitive here man. I was trying to win," Rochelin said. "But at the end of the day this is not for us. This is an event to bring everybody and to bring awareness to a good cause,"
Lewis said the event is exactly what is needed in order to battle sickle cell disease.
"I love the collaborative force of more awareness," Lewis said. "More people doing things like this, more people bringing knowledge to those that may not know about it, educating the community, it's important."