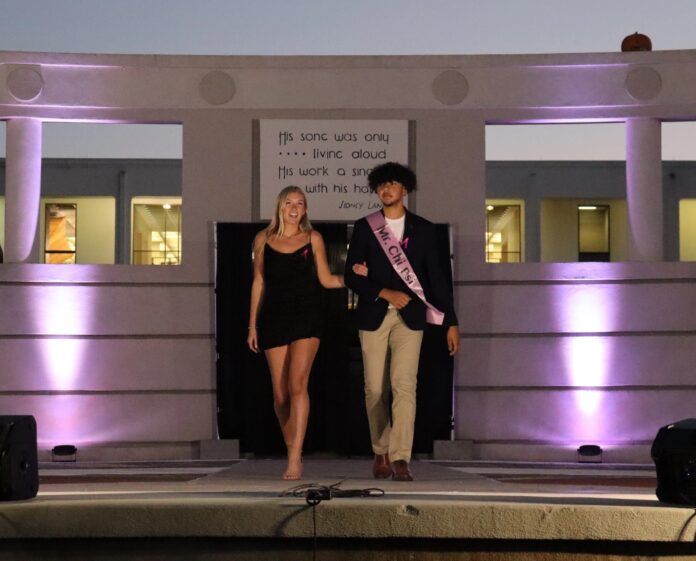 In an annual fundraiser for Zeta Tau Alpha, men from different Rutgers fraternities put on their best talents to raise money for Zeta Tau Alpha's philanthropy "Think Pink." For Alpha Rho at Rutgers, that man is Steven Karczewski, P '24.
Brother Karczewski is the Alpha's #36 and Social Chair and says he was kind of nudged into doing it by some other Brothers, but was excited to take part.
"Zeta Tau Alpha reached out to us through Instagram, which I run for the Alpha," he says. "I talked to our Philanthropy Chair and a few other Brothers and they decided I should be our representative, funny enough. It's nice that they had the faith in me to bring home a third straight Big Man On Campus title for our Alpha."
According to Karczewski, Big Man On Campus is a coveted title, and one that Rho brought home the previous two years. The talent show grabs the headlines, but he says they also earn points by doing tabling events, posting on social media, and more.
"We were definitely going for that three-peat," says Karczewski. "It's mostly just silly talents at the talent show. We did a dance performance. It's easy to embarrass yourself when you have two of you best friends right behind you on stage."
Think Pink is Zeta Tau Alpha's philanthropy to raise money for breast cancer research and awareness. Like any philanthropy, Chi Psi at Rutgers is eager to take part and help bring attention to the cause.
"We try to show out at all the philanthropy events in the Greek community," says Karczewski. "Doing our own philanthropy events and helping other organizations with theirs is one of our biggest drivers. We try to all donate and bring big numbers to other events because we want to share the wealth and we know how important it is to give back to the community."
Brother Karczewski has some close friends in Zeta Tau Alpha, which made him even more excited to take part in Big Man On Campus. And he wanted to uphold Rho's stellar reputation on campus, especially when it comes to philanthropy. The Alpha has raised the most money for the annual Rutgers University Dance Marathon (RUDM) for more than 20 years when they've been an active Alpha.
"We have a really great support system at Rho," he says. "I've been told several times by guys in other fraternities that they wish they had friendships like we do in Chi Psi. That support is so important when we do philanthropic work across the community."
Being ever-present at community philanthropy events and successfully raising money for their own causes has also been a boon to the Alpha when it comes to recruiting. According to Karczewski, everyone from men rushing at Rutgers to staff in the Office of Fraternity and Sorority Affairs (OFSA) takes note of Rho's efforts.
"I think our numbers and our results speak for themselves," he says. "Guys rushing recognize the balance we have between social life and philanthropy and so does the University. Our efforts really pay off."
On a more personal note, Karczewski says he wanted to compete in Big Man On Campus because everyone – including him – has been affected by cancer in some way. Karczewski's grandmother has been battling cancer for six years and is currently on hospice. He says the Big Man On Campus event is special because of what it raises money for. Even though he did not win this year, it was all for a great cause.
"Unfortunately, cancer is something we all have a relationship with sooner or later," says Karczewski. "It's a heartbreaking disease. As members of Chi Psi, we're able to take a step back and look at the bigger picture of making a real difference. I'm honored to have taken part in Big Man On Campus to raise money for something much bigger than ourselves."
Elsewhere, Johnny Burroughs, PΔ '25, was Alpha Rho Delta's (Miami) Big Man On Campus representative. Even though he was disqualified due to what the judges deemed an "inappropriate costume," Burroughs had a blast representing Chi Psi and helping to raise money for Zeta's philanthropy.
"I had so much fun," he says. "I met a ton of people in the lead-up to the event and got to help out a really great cause."
Burroughs finished second in the fundraising portion of the competition, bringing in more than $1,500 for breast cancer awareness. He was coached by two members of Zeta Tau Alpha and said they would go buy outfits, practice choreography to a Taylor Swift song, and continue perfecting the performance before the event.
"It was an honor even being chosen to be Big Man On Campus for Chi Psi," says Burroughs. "We hadn't had a candidate in a couple of years, so I wanted to get us back in the spotlight. Getting out and doing it was the best part, because it was in front of a sellout crowd and I got to just dance and be funny for 90 seconds. It's probably something I won't ever get to do again."
For Burroughs, it was also intensely personal to do something to raise awareness and funding for breast cancer.
"My family and friends have all been affected by cancer in some way, and breast cancer in particular," he says. "Trying to help afford people in that scenario the opportunity to get healthy or enjoy their time as much as possible is what it's all about."
He had significant support from his Rho Delta Brothers, most of whom were in the audience to watch him. He is fairly new to Chi Psi, so getting that level of support was validating.
"I wouldn't trade being part of Chi Psi for the world," says Burroughs. "It's such a tight-knit group of guys and we try to give so much back to the community. We all do it for a reason and try to keep things in perspective, but being part of Big Man On Campus in particular felt really special."
At Alpha Chi Delta (Clemson), it was a New Member who volunteered to represent the group in Big Man On Campus. Angel Feliz, XΔ '27, who was just initiated about a week ago, raised his hand when the Alpha was approached, saying he was interested in doing the philanthropy work and showing that he was a Brother to be relied upon.
"In high school, I was really big into philanthropy and community service, and this felt like a good opportunity to get involved in that here," says Feliz. "I didn't make it to the music round, unfortunately, but I was part of a band and was ready to perform with my guitar!"
Feliz says the reason he chose Chi Psi in his rushing process was because they were so open about their interest in community service.
"I talked to all the different fraternities on campus and my biggest question was about philanthropy work," he says. "When I talked to the guys at Chi Delta, they gave the best answer I got from any group. They are really serious about giving back to the community and mixing that in with fun."
The Alpha's #36 and Social Chair, Sean Donovan, XΔ '26, says about 20 Brothers were there to cheer Feliz on, and that they look forward to similar participation at other Fall events.
"We recently did a dunk tank to benefit the Pickens County Humane Society, where a small donation allowed people to dunk a Brother of their choice," says Donovan. "We raised about $1,000 and it was one of the best philanthropy events I've been involved with."
Before that, four Brothers participated in Alpha Chi Omega's Walk-A-Mile event, where fraternity men have to race in high heels. They made it to the semi-finals and, once again, had a ton of members in attendance to support the event.
"Everyone always wants to help with philanthropy in our Alpha, whether it's our event or another organization's event," says Donovan. "Everyone was willing to get dunked in the dunk tank, everyone was willing to tape high heels to their feet and do the Walk-A-Mile race. It's something that we proudly carry at Chi Delta. Everyone takes our philanthropy work very seriously."
Next on the docket, the men of Chi Delta plan to do another event for the Pickens County Humane Society, where they hope to have a "Meet and Treat," where a small donation allows you to play with the shelter's puppies.