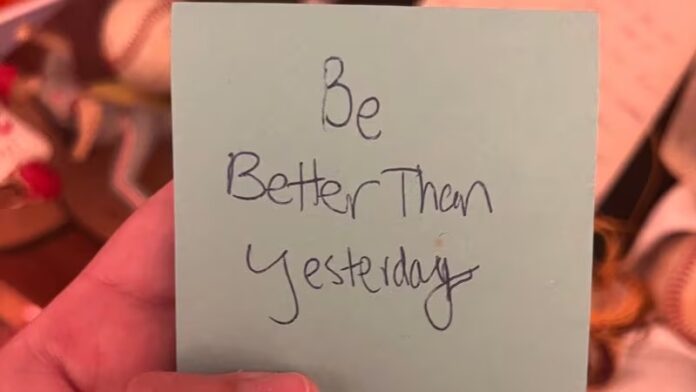 Phelps Romanowski Ikner had no clue what she or her mother were looking for as they stood in her younger brother's bedroom the night of June 21, 2023.
Perhaps a sign from God to make sense of what had transpired earlier that day. Or maybe just something — anything to bring themselves a sliver of relief or comfort.
Earlier that Wednesday, Ikner had made the northward trek from Mobile, where she now lives, to her hometown of Montgomery to be with her family after her younger brother, Will Romanowski, was involved in a fatal car accident. He was 19 years old and had just finished his first year at Auburn University.
Soon after Ikner had joined her mother in surveying Will's room, she found what she didn't know she was looking for: a light blue sticky note on his dresser with four words scribbled across it in darker blue ink.
"Be Better Than Yesterday," the sticky note read.
It clearly took a bit for the pen to wake up as the first 'B' was a bit faded, while the second 'Y' in "Yesterday" had some imperfections of its own.
The handwriting wasn't perfect, but it was Will's.
And unbeknownst to Will, those four little words scribbled across a sticky note pad have gone on to not only be a big piece of his legacy, but a big piece of the Auburn football team's inspiration this fall.
At Auburn, Will studied business analytics and aspired to work in the front office of a Major League Baseball team one day. And should he have had it his way, it would've been with his Philadelphia Phillies.
Will was fiercely loyal – as a friend and a sports fan, Ikner says.
"He absolutely loved Auburn with everything in his being," Ikner said. "It's hard to be an Auburn fan sometimes, but he was very loyal to Auburn."
Often times, Will would go to random Auburn sporting events – even if it meant going by himself because he couldn't find a friend or one of his Sigma Nu fraternity brothers to tag along.
And though Will enjoyed filling his free time with sporting events, it never impacted his grades. Will went on to finish his first year at Auburn with a 4.0 GPA, as well as being in sophomore standing after just one year.
"He was brilliant beyond words," Ikner said. "He was already ahead of where he should've been."
But being ahead of the curve wasn't a luxury Will always had in his life.
When Ikner stumbled across the sticky note on Will's dresser the night of his passing, she wasn't sure what to make of it.
"It's not something that I had ever heard him say — those specific words," Ikner said.
Come to find out, it was something Will used to tell himself when he was on the baseball fields when he was younger, a friend of Will's told Ikner.
Will was a late bloomer, Ikner says. He was always on the smaller side growing up, which was especially difficult as he played baseball.
"All his friends were bigger and taller and stronger than he was," Ikner said. "So I think it was something he caught himself telling himself – to always work to be better than the day before."
And Will did that, Ikner says. Not just on the baseball field, but in all aspects of his life.
"I mean that truly encompasses everything that he was," Ikner said of the four short words. "He was always trying to learn something new, trying to be better. He was always reading a book about some boring baseball statistics or things like that. He just always wanted to be better. And I think, not only did he hold himself to that, but he encouraged his friends to do that as well."
So Ikner went on to have bracelets made in Will's honor to give to his friends and family. The initial order was for 400 bracelets.
They were baby blue and red – Phillies colors – and said, "Be Better Than Yesterday" with Will's initials.
Considering how well-liked Will was in each community he was a part of, and the bracelets were a hot commodity, and more orders were made – some by Ikner, some by others.
The bracelets eventually made their way to Will's high school, LAMP High School in Montgomery, where "Be Better Than Yesterday" was the school's motto this year. Will's baseball jersey was also recently retired at LAMP.
Auburn's Sigma Nu fraternity also got ahold of some bracelets.
And, somehow, someway, Auburn's football team did, too.
Auburn was coming off its narrow loss to No. 1 Georgia the evening of Sept. 30 and linebacker Eugene Asante, who is usually a man of many words, was a man of few as he was asked about the game.
But then he was asked about the baby blue bracelet wrapped around his wrist and Asante lit up.
"I love the message and just putting my best foot forward every day, trying to be the best person I can be, the best player I can be and it's something that sticks with me," Asante said.
When an AL.com article from that night mentioned the bracelets, it caught Will's family by surprise. They had no idea the bracelets had made their way within the walls of the Auburn football locker room, let alone how they got there to begin with.
"I truly don't know how they got the bracelets," Ikner said. "To us, it's almost like a God wink."
The immediate thought was perhaps Will's fraternity brothers with Sigma Nu had something to do with it.
But after some poking around, it was determined that wasn't the case.
"We have no clue," said Charles Regan, president of Auburn's Sigma Nu chapter. "Starting to think it's a God thing."
As it turns out, the bracelets made their way to the football team by way of one of Auburn's academic strategists who helps the football team and a friend of the Romanowski family, says Auburn wide receiver Jay Fair, who also sports one of the bracelets on his wrist.
And just like Will did, players like Asante have been taking the reminder to heart and have leaned on the words of encouragement – both on and off the football field.
"I was wearing (the bracelet) in the game," Asante said on Sept. 30. "Just putting our best foot forward in all things, in all aspects as a human being, as a Christian, as a man… so that's one thing I want to embrace."
It all leaves Will's family wondering what he'd think of it all.
Ikner often jokes to her husband that Will would be "absolutely mortified and be shaking his head" to know the impact he's had on people he didn't even know.
"It would make him proud. It makes me proud has his older sister. But I knew he was great and wonderful," Ikner said. "But to see that everyone else thinks the same, it's really comforting."
Both Asante and Fair met Will's family when they were in Auburn last weekend for the game against Mississippi State and a big bag of bracelets was passed on. So needless to say, Will's impact won't be going anywhere anytime soon.
But that's just Auburn being Auburn.