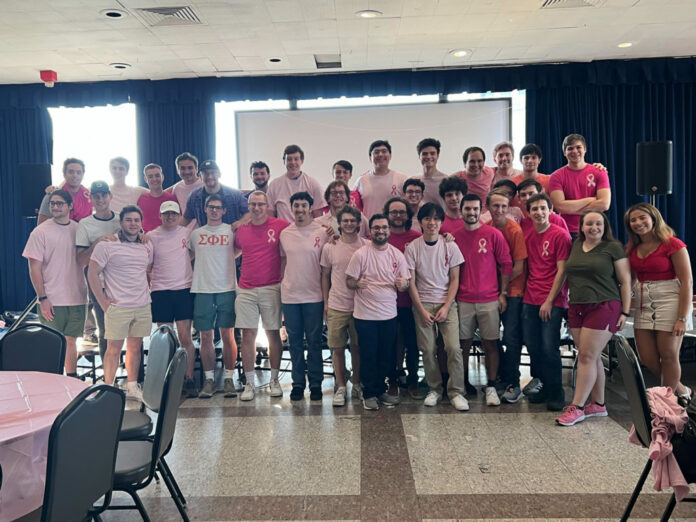 October is breast cancer awareness month; In recognition last month, the New Jersey Alpha chapter of Sigma Phi Epsilon (often referred to as "SigEp" on campus) showed their support for the cause by raising nearly $6,000 for the American Cancer Society. They raised such a significant sum of money through various fundraising efforts, including their annual Breast Cancer Awareness Brunch, a SigEp band performance, and a brotherhood skydiving challenge, among other activities.
As current SigEp President Justin Baumann shared, this year's fundraising effort hit especially close to home for the SigEp brothers. Baumann explained that "the president prior to me, Jayden Pereira, lost his mother, Fernanda Pereira, in August to metastatic breast cancer. She loved the American Cancer Society for their advocacy, research, and familial support, and was a massive fan of [SigEp's] breast cancer awareness fundraising efforts every year." As such, the SigEp brothers worked extra hard, with support from collaborating student organizations, to raise funds in creative and innovative ways.
While some fundraising methods used by SigEp were more traditional, like their bake sales and Breast Cancer Awareness Brunch raffle, the brothers also took part in some challenges that drew additional attention with unique themes. For example, Brother Michael Lanfranco will be spending 24 hours in Pierce as a reward for hitting one of their fundraising goals, and President Justin Baumann shaved, bleached, and dyed his hair pink once $750 in donations had been collected. One of the most interesting fundraising prizes SigEp had to offer was a brotherhood skydiving trip, which is expected to take place soon in exchange for the $2,000 fundraising goal being reached. As for collaborative events, SigEp partnered with the Stevens Poker Club to hold a charity poker tournament, and the brothers held a "brotherhood sports competition" against members of the Stevens community to raise money as well.
Even though October has passed, SigEp encourages students to support Breast Cancer Awareness year-round via individual donations. "If students want to give, then we would urge them to donate directly to the American Cancer Society (in Fernanda's name if they so choose)," Baumann said. Members of the Stevens community who want to contribute to the effort to defeat breast cancer can donate online at the ACS's website. Those suffering from cancer, or who know someone who is, can explore ACS Programs and Services online as well.