Alpha Kappa Lambda realizes that sexual assault is a serious problem on college campuses and believes that it can be fought through education, service, and philanthropic projects. These Hands Don't Hurt was established in 1996 and can be tailored to each chapter's ability and community needs.
Education and awareness are performed via a "Promise Wall." The promise wall is displayed prominently in a high traffic area of campus. Students, faculty, and members of the community are asked to add their "hand" to the Promise Wall. By placing their "hand" on the wall they make a promise that their hand will not be used to harm others.
Promise Walls might be free-standing walls, usually constructed by the chapter using plywood. Another option is a banner that is easier to transport and can be hung up at a chapter house or elsewhere on campus. Handprints can be added using acrylic paint, pro-tip use latex gloves to make cleanup easier, or pre-cut paper hands that participants can sign and add.
Sometimes donations are collected as a philanthropic effort alongside a Promise Wall. Perhaps asking for a minimum contribution of $1 to add a hand to the wall. Money raised is then donated to a local shelter, campus crisis hotline, or another organization assisting survivors of sexual assault.
While philanthropy events donate money, service events provide time and hands-on volunteering for the same cause or organization. You'll most likely find events similar to These Hands Don't Hurt in April supporting Sexual Assault Awareness Month, or October for Domestic Abuse Awareness Month.
The following showcases a few of the unique ways chapters have hosted their own These Hands Don't Hurt.
The Alpha Kappa Lambda chapter at Missouri State used a banner as their Promise Wall. Afterward, the banner was displayed at their Sand Volleyball Philanthropy Tournament and will hang at the chapter house for the remainder of the semester. Donations were collected benefiting Harmony House. Even the MSU Family Association added their hands and took the pledge.
Last year, the chapter at Kansas State partnered with Kansas State University's "No More" campaign to raise awareness of domestic abuse and assisted in the formation of another school organization "Wildcats Against Sexual Assault." Together, they held a Promise Wall on campus. Pins and buttons were given out to show support of taking the pledge as well as literature of campus resources.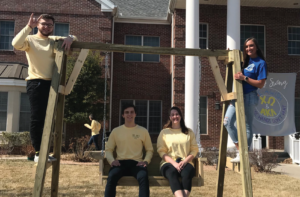 The chapter at Old Dominion University hosted a Promise Wall asking for at least $1 donation to add a handprint and get cookies/donuts/water balloon a brother. Over $300 was raised benefiting the YWCA of South Hampton.
Alpha Kappa Lambda at Emporia State University hosted a swing-a-thon with the women of Chi Omega. Over $1,000 was raised and donated to These Hands Don't Hurt and the Make a Wish Foundation.