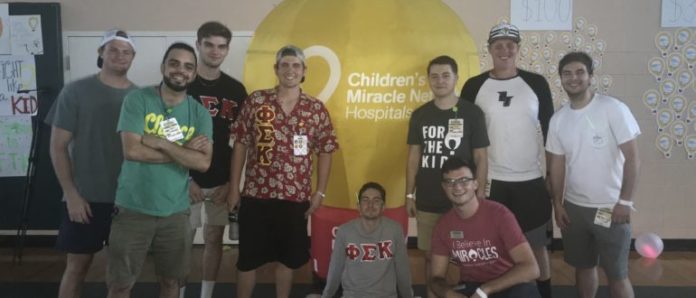 I want to tell you about the support I have received from the Kappa Hexaton chapter (Stetson University, DeLand FL) of Phi Sigma Kappa for just over 3 years now.
In 2016, I was selected to be a part of the team that brought Children's Miracle Network Dance Marathon to Stetson's campus, since coined as "Hatterthon". On a selfish note, joining this organization completely changed my life. It restructured my career path, grounded me after unfortunately falling into a self-centered lifestyle, and showed me who my true support system was. With that, came Phi Sig.
I had just recently began dating a brother of the chapter around the same time I began planning Hatterthon. Being around the house meant that not only did he hear all of my excitement towards the event, but so did the rest of the brothers, and they listened. They listened to me ramble about my first visit to my local Children's Miracle Network Hospital – Orlando Health Arnold Palmer Hospital for Children. They hung out with me and played music while I borrowed their chapter room floor during late-night hours to paint banners for the event. They signed up for the event and posted the links to their fundraising pages. One even became a Morale Captain for the event. Above all – they showed up. They went to their routine Special Olympics practice on Saturday morning, and then showed up immediately after to dance with me For The Kids for 6 hours. They helped make miracles happen.
The fact of the matter is, when my Hatterthon adventure started, so did my adventure with Phi Sig. They barely knew me and I barely knew them. Yet, they extended me support, kindness, and friendship. They extended me brotherhood. They embraced this program that meant so much to me, and took it on with me – not for me.
So, let's flash-forward to now – 3 years later. This past Saturday, February 23rd, Stetson held their 3rd annual Hatterthon event. It was my first time attending the event as an Alumna. For the first time since the organization started, a Kappa Hexaton brother was on the Executive Board serving as the Recruitment Chair. The Phi Sig team won the Healing Award this year, which signifies being the top fundraising team with 20-45 members registered. Including the brother on the Executive Board, they raised just over $1,800 For The Kids at Arnold Palmer Hospital.
I know I'm biased, because I love them so much, but I genuinely believe that Kappa Hexaton deserves recognition for their hard work towards Hatterthon. Phi Sigma Kappa should definitely be proud of these brothers for living and breathing Phi Sig values each day and representing what a fraternity man should be.
This chapter changed my life just as much as Hatterthon did. I can honestly say I do not know who I would be without these men. I'm sure that they're not the only Phi Sig team to have raised money for their school's Dance Marathon program, and I'm sure how much they've raised isn't comparable to some. Regardless, I am so Damn Proud of them for being For The Kids. I will never be able to say 'thank you' enough… but I sure as heck can try.
Thank you, Kappa Hexaton. Thank you, thank you, thank you.
With all of my love,
Marisa Petersen
Kappa Hexaton Sweetheart 2018