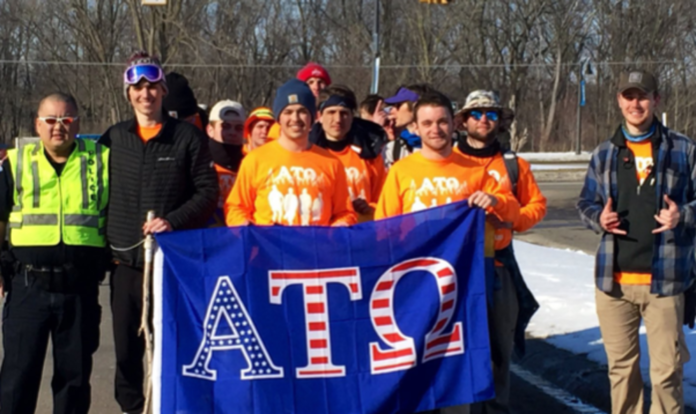 Over spring break between March 1-8, Grand Valley State University's Alpha Tau Omega (ATO) fraternity hosted their seventh annual Walk Hard event benefiting the National Multiple Sclerosis Society. The eight-day fundraiser entails a 160-mile walk from Traverse City to Allendale, Mich., with a kickoff ceremony on GVSU's campus before the walk began.
This year, 20 fraternity brothers took part in the grueling journey meant to symbolize the pain that people diagnosed with multiple sclerosis (MS) face every day through the fatigue, poor balance and muscle cramps that the continuous, daily walking causes. In the past seven years of hosting the fundraiser, the fraternity has raised over $230,000 for the cause.
"It started 7 years ago with one of the founding member's mother having MS," said ATO Vice President Grant Robertson. "Our old philanthropy wasn't very successful and we thought we could bring more attention and money to the MS society through doing something crazy and ridiculous like walking 160 miles in the bitter cold on spring break instead of living it up in Fort Lauderdale."
Robertson said that the goal for the fraternity is $50,000 each year; however, they are always happy with whatever amount of money they end up raising. This year, the fraternity raised $30,000 before the walk had even begun.
The annual fundraiser is also close to home for many of the brothers as they have personal connections with the disease through family or friends, giving some even more of a reason to take part in the walk. The walkers do around 20 miles each day, with 27 miles being the longest they walk on a single day.
Matt Bertoia, a GVSU junior and ATO brother, explained that the walk has a support team that helps the walkers with meals, clean up and any medical needs when they stay overnight at churches along the way. Bertoia said that the fundraiser is meaningful to him because he enjoys supporting a cause that is not often discussed, as MS is such a rare disease.
"Oftentimes, everyone has a relationship with someone with cancer, whether it's someone who is close to home or a distant cousin, but not many people have a relationship with someone MS," Bertoia said. "MS is a terrible disease because it affects people's ability to walk, talk and see and it takes away from a person's personality. We as ATO brothers have come to recognize that this fundraiser has become something that is bigger than just us and we want to help the cause to find a cure."