EUGENE, Ore. (KEZI) — University of Oregon students are reaching out to the east coast, hoping to help students recover from the traumatic events at the University of North Carolina at Charlotte.
Members of Pi Kappa Phi at UO have taken what was supposed to be an effort to help people on their campus and turned it into a coast-to-coast show of compassion by making hundreds of "grounding kits" to help people affected by the recent events at UNC-Charlotte.
Sights, smells and sounds have been packaged up and are being sent out to the UNC-Charlotte campus. The "grounding kits" aim to help people with anxiety or PTSD keep their minds relaxed and focused on what's in front of them rather than their wandering thoughts.
"To help people that suffer from anxiety or go through PTSD," said Pi Kappa Phi member Nico Vargas. "Like, certain events in their life. They have to deal with that stuff, so we thought this is some way we can make a direct impact with those here on campus so we went for it and this is where we are now."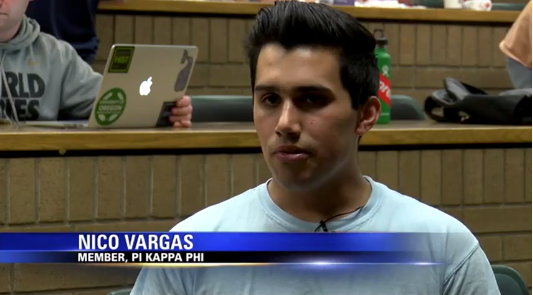 Vargas and his fraternity actually planned this event before spring break as part of their philanthropy week called "War of the Roses."
They reached out to the Accessible Education Center on campus, and the assistant director told them about these grounding kits that were put together for Umpqua Community College.
"It's all aimed for you to gather yourself and focus on things that are happening right in front of you, rather than having your mind go all over the place and just get lost and start hurting yourself," Vargas said.
On Tuesday a shooting happened at UNC-Charlotte that claimed two lives and injured several other people.
Vargas said that's when their mission changed.
"We're trying to spread this as far and wide as we can because we want to show them that we care about them, and, you know, they're going through a difficult time," Vargas said.
Vargas said it was an easy decision to take this simple concept and use it to help others nearly 3,000 miles away.
"I think that's the biggest message here: just focusing on what you can do for yourself here and if the opportunity comes about, just use what you know and make a difference," Vargas said.
Vargas said thanks to the large effort that was put in on Wednesday to make hundreds of those bags in a very little amount of time, they'll hopefully be able to send them out tomorrow to help people in Charlotte.