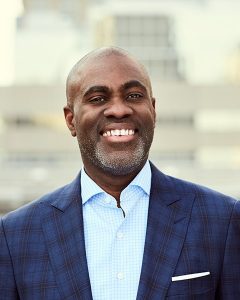 As Alpha Phi Alpha brother Sean Woodroffe oversees human resources strategy and execution for TIAA, he calls upon lessons learned as an undergraduate at Shaw University, the historically Black university located in North Carolina.
With over 25 years of experience, Woodroffe, the senior executive vice president and chief Human Resources officer at TIAA (Teachers Insurance and Annuity Association of America-College Retirement Equities Fund) is a leading human resources executive in the financial services industry. He sees TIAA, which he joined two years ago, as a mission-based organization dedicated throughout its history to serving those that serve others.
"Having an opportunity to apply my trade to the development of colleagues and employees to help us deliver the promises that we've made to our clients was for me just the perfect match," he says. "Values, for me, mean everything."
Woodroffe has been a champion of diversity and inclusion throughout his career. Working for TIAA, which in his opinion lives those values, enables him to perform to the fullest.
"As we think about how we recruit talent and how that talent is curated and developed, our focus and the underlying principle is around diversity and inclusion," says Woodroffe, who oversees a team of approximately 400 people.
The responsibility for human resources strategy and execution for TIAA's global workforce, including talent acquisition and organizational design, requires a global perspective. His international experience comes into play. Over the course of his career, Woodroffe has had several international assignments, including working in Tokyo, London and Lagos, Nigeria. He also had the opportunity to work in a variety of financial services — banking, asset management and life insurance.
"The combination of those life experiences prepared me very well for the role I currently have," he says.
Born in Trinidad, Woodroffe immigrated to the U.S. as a child when his mother was offered a job at the United Nations. When it came time to apply to college, a friend of his mother's suggested Shaw, founded in 1865. He recalls how the dean of students imbued the freshmen with a sense of confidence by telling them they had the ability to do anything they wanted to do.
"The formula to that success was having unimpeachable integrity, developing an insatiable work ethic and operating with a sense service. Those attributes stuck with me," says Woodroffe, whose sense of service was enhanced as a member of Alpha Phi Alpha.
Following graduation in 1986 with a degree in international relations, Woodroffe was hired by Merrill Lynch and over the next 18 years progressed into a variety of different finance and operations roles. He says that Shaw provided him the ability to work in any environment and not think about difference. Rather, he focused on his skills, talents and hard work. With that perspective, it's easy, he says, to adjust to different environments.
Woodroffe describes his entry into human resources as "serendipity," but admits it is the perfect fit.
"Based upon how I'm wired and my values construct, Human Resources is perfectly conducive," he says. "HR, by its very definition, is a service-oriented function, and I believe that leadership is about serving others. HR practitioners play an invaluable role in the development and attraction of employees for any company."
Woodroffe says that it's important that leaders appreciate that without diversity, an organization is limiting itself to a very narrow talent pool.
"Organizations that think about diversity and inclusion recognize there's a much wider pool of talent and having people from different backgrounds, ethnicities and religious persuasions really helps those companies ensure they are receiving the benefit of advice, thought and innovation because they're focused on diversity and inclusion from the broadest sense," he says.
He is a believer in sponsorship rather than mentorship. Woodroffe says mentors provide advice, but are not necessarily invested in someone's career development and success. A sponsor is a person who not only provides advice, but is also an advocate for career development. Since Woodroffe has benefited from sponsors, he feels it's incumbent on him to do likewise for others.
Woodroffe's connection to Shaw continues to this day. He serves on the school's board of trustees. He says that trustees must be mindful that the institution is able to attract students and that the endowment is such that the education is affordable.
"Serving as a trustee of an institution of higher ed is a very serious responsibility that should not be taken lightly," says Woodroffe, who also served on the board of his children's middle school in New Jersey. "Making sure that the curriculum offered is adapting to the needs of society.
"At TIAA, we have an HBCU leadership forum, so in some ways I'm working at an institution that is not only providing a service to the higher ed community, but is also trying to be a difference-maker in terms of improving the efficacy of HBCUs," he adds. "We also have a Hispanic advisory council. We're very involved in making a difference in diversity and inclusion issues within the context of higher ed."