"It's no understatement to say that Dorothy Brown casts a long shadow when it comes to education in Greencastle," begins an article in the Banner-Graphic. "Brown was the first African American to teach in Greencastle schools, a one-time principal of Ridpath School, assistant dean and director of minority affairs at DePauw University, education professor at the university and even spent two terms on the Greencastle School Board." (photo: Joe Allen '59 and Dorothy Brown)
"Mom" Brown, as she's affectionately known, is beloved to several generations of Phi Kappa Psi fraternity members. She has served as Phi Psi's house director for 26 years, and plans to retire at the end of the coming academic year. As a result, the fraternity recently honored Brown with a celebration at Laurel Hall, the Phi Kappa Psi national headquarters located in Indianapolis.
Joe Allen, a former astronaut and 1959 DePauw graduate — who happened to be a member of Beta Theta Pi — addressed the gathering and "spoke of his experience living under the tutelage of Brown's father Oscar, who served as the Beta house dad for 39 years."
To honor her service, Phi Psi launched the Dorothy Brown Chapter House Operating Fund and U.S. Representative Jim Baird (R – Indiana) paid tribute to Brown on the floor of the House of Representatives on June 21, saying, "Whether during her time as an elementary school teacher or fraternity housemother, she exemplified leadership and compassion, and I am proud to call her a fellow Hoosier. On behalf of the Fourth District of Indiana, I thank her for her dedication to her community, and I wish her the very best in retirement."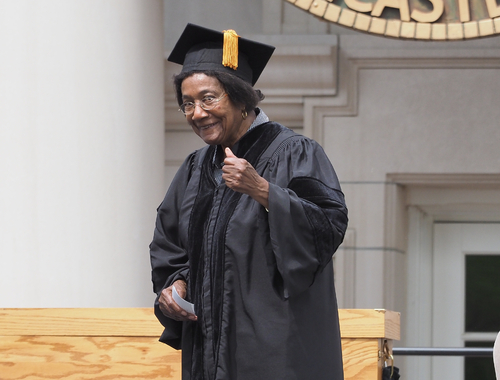 Dorothy Chapman Brown has served DePauw for more than 30 years and was honored in May 2018 with an honorary doctorate from the University.
"I am grateful that my career provided a platform, thus opportunities to help others, especially the young people of Greencastle and students at DePauw," Brown said as she received the award. "DePauw is a great place to live, work and learn." She told the Class of 2018, "I encourage each of you to not let you learning end today, but let it be a stepping stone to being a lifelong learner. I accept this degree with much pride and humility, and I will allow it to serve as a testament to the value of serving one's community and serving in a profession with commitment and compassion."