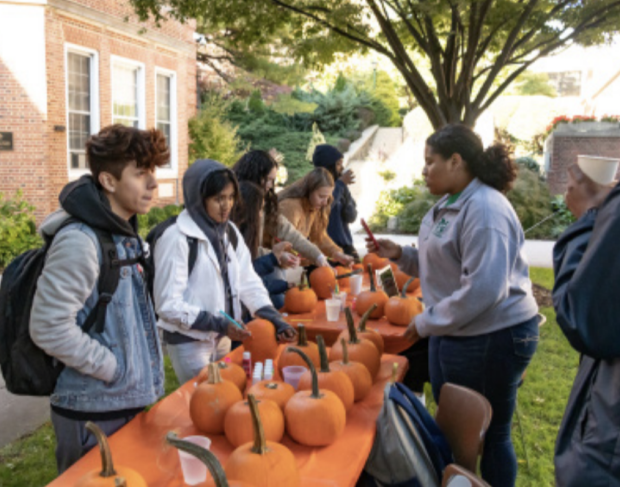 Pumpkins, apple pies and fraternity brothers, oh my! This past Friday, Oct. 18, the quadrangle at Manattan College was filled with students attending the second annual Delta Kappa Epsilon Harvest Fest, a philanthropy event that raises money for the American Cancer Society and this Sunday's Breast Cancer Walk.
"Harvest Fest was something that we created last semester," said Chris Mulford, a member of Delta Kappa Epsilon. "October is Breast Cancer Awareness Month and we have always done the Breast Cancer Walk as long as we have been a fraternity, and we thought of a way to fundraise more money other than just through social media would be on campus. We decided to use the month of October and cute fall things as a way to get people out here and donate some money to the American Cancer Society and the Breast Cancer Walk we are attending this Sunday."
The Breast Cancer walk is an annual philanthropy event that all Manhattan College Greek Life participate in together. They design t-shirts and fundraise on campus and through social media to garner support for their donation pages. Then they walk together as a collective group representing Manhattan College.
"The Breast Cancer Walk is something that the fraternity has been doing for a while now… We try to fundraise as much money as we can, as it hits home for a couple of brothers who have had family members who have died from cancer. For us, it is something that is personal and the reason I care so much is for that reason. We use the fall fest as a way to jump up the money we are going to make," said Mulford.
The goal amount of money the festival was trying to raise was $1,000 dollars. They did this predominantly through their bake sale, where they sold a variety of baked goods, including 25 homemade apple pies.
"My favorite part of Harvest Fest is the pie. If you didn't get one this year, be sure to buy one next time. The apple pies that we make are the best pies I've ever had," said senior Tim Hebert, a member of Delta Kappa Epsilon.
Along with collecting donations from their other events such as pumpkin painting, corn hole, football and a photo wall made of the DKE letters and hay bales.
"It's a really cute event, especially because we are in October and fall season. Our booth is pumpkin painting, and we had a good turnout, there are some cute pumpkins. DKE wanted someone to run the booth and so they asked us to co-sponsor. We have had a good turnout. Everyone is enjoying the cornholes and people have been loving the pumpkin painting," said freshman and Event Coordinator for Fuerza Latina Mia Enmanuel.
Social media was buzzing with positive support for the fall fest and student interest. The event was popular despite the cold fall weather.
"I thought the event was a lot of fun. The guys in DKE created a warm environment for the MC community, despite the fact that it was pretty cold outside. All in all, I thought the event was a success," said senior and President of Fuerza Latina Anna Rosario.
The fraternity hopes to keep the event going with the years to come. They also hope that the event grows to include more clubs and student groups from throughout the college to foster a stronger Manhattan College community and to continue to support cancer patients and their families.