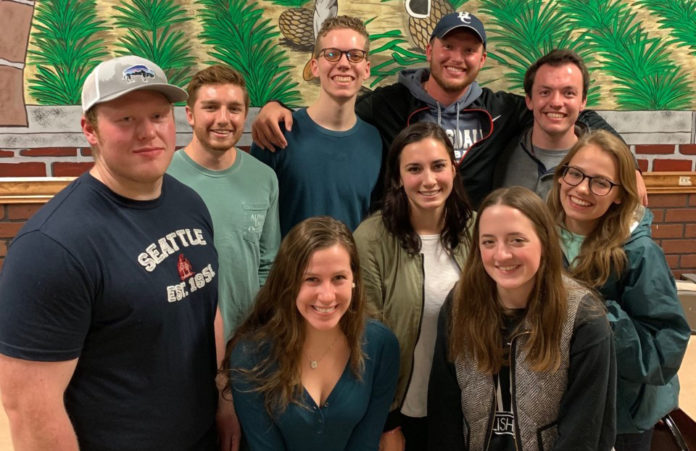 At Hillsdale, being a member of a fraternity means making close friends within your house and forming a lasting brotherhood with fellow members as you walk through life at Hillsdale with the support of a house full of principled men.
Recently, however, it has also meant involvement in the Interfraternity Council, which brings all of the campus' fraternities together to work towards common goals.
Junior Jack Murphy, IFC representative for the Delta Sigma Phi Fraternity, said IFC brings together all the houses to create a fraternal bond that transcends the oft-divided Greek lines.
"The purpose of the Interfraternity Council," Murphy said, "is to bring together all the fraternities on campus and create better communication and cooperation so that we can make Hillsdale better."
The IFC, which has recently begun to meet at least once a month, is comprised of one member representing each fraternity, as well as the council president. They discuss each house's progress with rushing and event planning.
"The main thing that we do, especially during the spring semester, is Greek Week." Alpha Tau Omega's IFC Representative Alex Yun said. "It's the big competition between all the different fraternities."
Greek Week consists of events held throughout the week between all of the fraternities on campus, with the winning fraternity receiving a trophy at the end of the week
"Greek Week is a chance for all of the fraternities to come together in athletic competition," senior and IFC President Hunter Pearson explained. "It's a great opportunity for camaraderie and fellowship."
The IFC is organized similarly to the Panhellenic Council, which is the inter-house governing council that serves as the sorority counterpart to the IFC.
"In the past, the relationship between the Panhellenic Council and IFC was nonexistent," Pearson said. "However, we've recently come together to support one another where possible."
To help this relationship along, the two councils have begun to plan 'all Greek' events.
"I think, if anything, we're trying to err more on the philanthropic side," Yun said. "Our initiative for the entire Greek organization is just trying to raise money, as well as having the houses come together and have some unity."
This is an important change. While a thriving relationship between the fraternities and sororities is significant, a good relationship with the college is also imperative. Recognizing this, the deans set up an 'all Greek' meeting at the beginning of the semester.
"I think that they've kind of felt that there was a disconnect between the Greek houses and the dean's office," Yun said. "They just wanted to get our input; things that they can work on, and also things that we can do to help them understand our situation as well."
Recent years, this past one in particular, have brought tremendous improvement in the activity of the IFC as well as the responsibilities that it takes on. Yun described the visible change he experienced during his involvement.
"I think we moved in a positive direction. Ever since I was a freshman, IFC was kind of looked at as a joke," he said. "We didn't really do much, but I think that more and more we are becoming involved on the campus as a whole and in the fraternities."