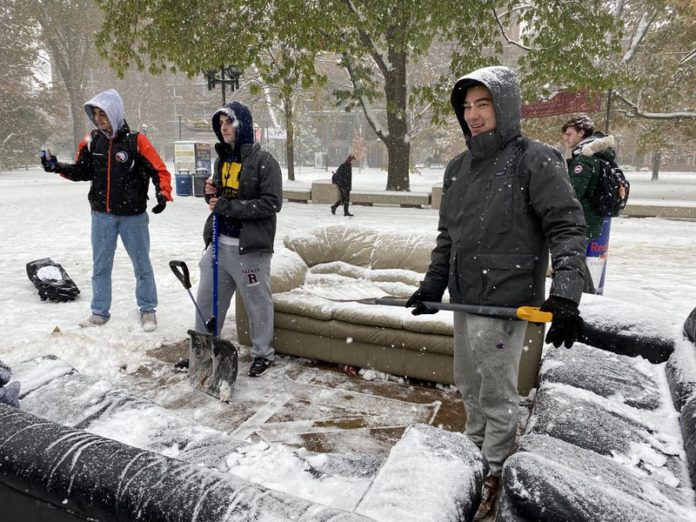 Members of Theta Xi guard the Block M 24/7 during rivalry week
The University of Michigan Wolverines face off against the Michigan State Spartans on Saturday at Michigan Stadium, but one group on campus prepares long before the game.
It's rivalry week in Ann Arbor and members of the Theta Xi fraternity have been guarding the Block M on the Diag since Saturday evening.
As the tradition goes, MSU fans try to vandalize the brass inlaid Block M in Ann Arbor and U-M fans try to deface the Sparty statue in East Lansing.
Last year, Ann Arbor fans weren't so lucky. Spartan fans managed to spray paint "MSU" on the Block M.
"Last year, we started on a Sunday and they actually came around 3 a.m. Saturday night," said Theta Xi member and philanthropy co-chair Daniel Fox. "We started a day earlier this year just to ensure that didn't happen again. Luckily it didn't."
As of Monday at noon, the group's tent collapsed due to heavy snowfall and they were waiting for another to arrive. Theta Xi members were seen sweeping snow off couches used as barricades around the symbol and shoveling snow off the Block M as heavy snow continued to fall.
Fox said members spend an hour or two guarding the Diag between classes, and that overnight shifts are longer.
"Pretty much anyone can participate as long as they want," he said. "We always have a really fun time with it. We all get together, sit on the Diag, just hang out. People bring us food all the time. They'll bring us hot chocolate since it's cold out. They'll do whatever they can to help us."
Beyond a school tradition, the group is also using the event to raise funds for multiple sclerosis.
"It's a great way to get school spirit up before the rivalry week," said Fox. "Definitely a great opportunity to all get together as one unit to help defend the Diag that we all value and cherish."