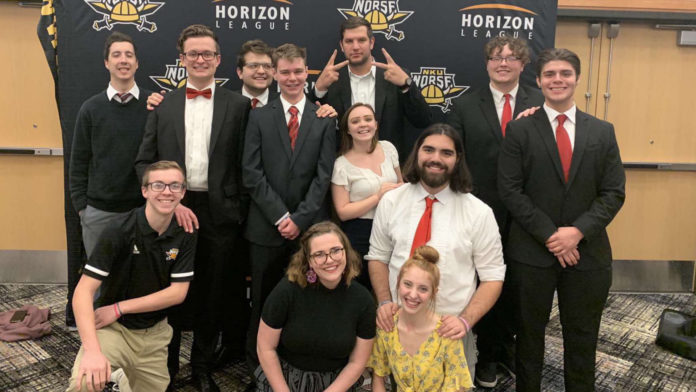 On Wednesday night, Theta Chi Fraternity at Northern Kentucky University hosted the Ruby Gala in the SU ballroom as a celebration of the life of Christian "Jet Li" Dichoso, a brother who passed away last fall. The benefit dinner hosted four keynote speakers, a silent auction and raised money for a scholarship in Dichoso's name with a goal of $25,000.
With over 300 people in attendance, the gala proved that Dichoso not only had a major impact on his fraternity, but on the entire NKU community.
Zach Kohlman, junior business management major and the chairman of the Ruby Gala, said that despite the scholarship goal, the most important aspect of the gala was to honor Dichoso's memory.
"I really hope that we can work together to come closer as a Fraternity and Sorority Life community, and know that this is a campus where you should be loved and there are so many people that will love you," Kohlman said. "And that's the most important thing I want people to see from all the people in that room."
Kohlman allotted time to encourage those in attendance to share memories of Dichoso. Among those who spoke were Dichoso's sister, his sophomore year roommate, two Theta Chi active members and two of his coworkers from his time working with the TSA at CVG Airport.
Kyle Fitzgerald, a Theta Chi active, recognized the sheer amount of people that Dichoso had left a lasting impact on, saying that the number was unfathomable.
"That love has resonated with me and it has resonated with everyone in this room," Fitzgerald said. "It has followed us and it's never going to die out."
While the Ruby Gala aimed to honor Dichoso's memory, Theta Chi's Vice President of Health and Safety Trey Burns said it was also an opportunity to focus on the chapter's accomplishments and the individual efforts of Theta Chi brothers.
"It kind of has turned more from what was just us recognizing him and talking about our chapter, and it's turned very much into a community event," Burns said.
Three scholarships were presented to Theta Chi brothers who had an impact on their chapter and the community and included four keynote speakers. The four speakers of the night were Theta Chi alum Patrick Regan, NKU Fraternity and Sorority Life Coordinator Colin Blouin, International Vice President of Theta Chi's Grand Chapter Darrick Brown and Theta Chi's Head of Standards Noah Cullen. Each speaker delivered personal stories about the benefits of brotherhood within Theta Chi and the Greek community.
Regan discussed the support he received after coming out as gay during a chapter meeting, ending his speech by telling the room, "live life unlimited."
Brown explained the newer initiatives concerning health and safety of the Greek community, focusing on brothers' commitment to protect each other and uplift one another.
"We've got to prevent tragedies," Brown said.
The health and safety of fraternity members is of prime importance, according to Brown. He asked that each brother recommit himself to loving and protecting each other in honor of Dichoso. Brown concluded by having the Theta Chi brothers stand and recite their creed.
Burns has been promoting health and safety within Theta Chi through highlighting brothers of the week and facilitating an atmosphere in which brothers feel comfortable talking to one another about challenging topics. Burns wants brothers to recognize that "admitting your weaknesses in and of itself is not a weakness" and remind everyone that they're valued.
"Being able to recognize that you're having issues and wanting to do something about it is a very healthy part of establishing a healthy mental lifestyle," Burns said.
Burns recalls Dichoso as always being conscious if another brother was struggling, yet always being happy and extroverted himself. He said it's not always fair to assume that everyone is okay.
Cullen, who was Dichoso's fraternity little and roommate, said, "When Christian left, it was earth shattering to a lot of us."
The impact that Dichoso had on his fraternity brothers and the community has inspired others to live like he did—in service and in kindness. Cullen said there's an effort to be aware of each other's headspace and, since Dichoso's passing, the chapter has grown closer together in their effort to support one another.
"The amount of times I've had brothers come up to me being like 'I'm here for you, I'm here for whatever you need,' it has really meant a lot to me and I've never received so much support in a community before," Cullen said. "Our chapter has been a lot more compassionate toward one another."
The chapter's combined endeavors to honor Dichoso's memory by uplifting one another was made clear within the creation of the Ruby Gala. The success of the gala was a collective group effort, and the establishment of the Christian Dichoso Scholarship took the work of not only Theta Chi brothers, but community members and donors as well.
"If you ever need help, reach out," Cullen said. "And live like Jet."