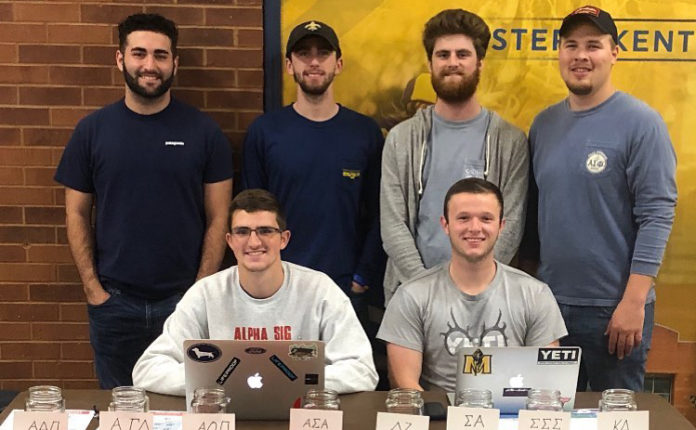 MURRAY, Kentucky — Members of Murray State University's Alpha Sigma Phi fraternity are seeking to put a positive light on Greek activities overall this weekend. 
For many years, the bothers of the Delta Tau chapter of this group have utilized a November weekend to go on a mission. That mission is to clear leaves from as many yards as possible in the Murray-Calloway County area with the annual Rake 'N' Run activity.
"I'd say this has been going on for every bit of 15 to 20 years," said Dawson McIntosh, a senior student from Evansville, Indiana, on Wednesday in advance of Saturday and Sunday's activity. "Right now, we're at 30 yards for this year and I think we can take maybe eight more before we're at max. So we still do have a few spots available."
Anyone wishing to obtain this service can contact McIntosh, fundraising chair of Alpha Sigma Phi, by emailing aspdtfun@gmail.com or texting 812-319-5913.
Donations are accepted and all proceeds will go to the Santa Project that ensures children of disadvantaged families having toys under the tree on Christmas morning.
"And it's all through donations, so anyone who wants to donate can know this is going to a good cause," McIntosh said, going into how this activity is one that can buck common stereotypes of Greek organizations. "Everybody hears the bad that happens. Nobody really hears about the good, and that's why we're raising money for something like the Santa Project. We want to defy that idea. 
"This shows that there is a different side to Greek life and I think it really does help the way the community thinks about us and Greeks in general, and I know that's true because we have people in the community come up to our advisors when they're out and about and give them compliments and that just reaffirms what we're doing and maintains a positive image."
In the simplest sense, though, this addresses a fall chore that few enjoy, he said.
"We've gotten really good feedback from this because it really helps out people who either are not able to do it (because of physical limitations) or just don't have the time to do it," McIntosh said, explaining that not only will the fraternity members handle requests within the Murray city limits but will also remove leaves from yards in Calloway County.
"Because there is no leaf pickup out in the county, we'll go ahead and bag leaves in those yards, while, in the city, we verify every yard before we go out and make sure they are part of the city's pickup, in which case we'll leave them at the curb so the city can come and get them," he said.