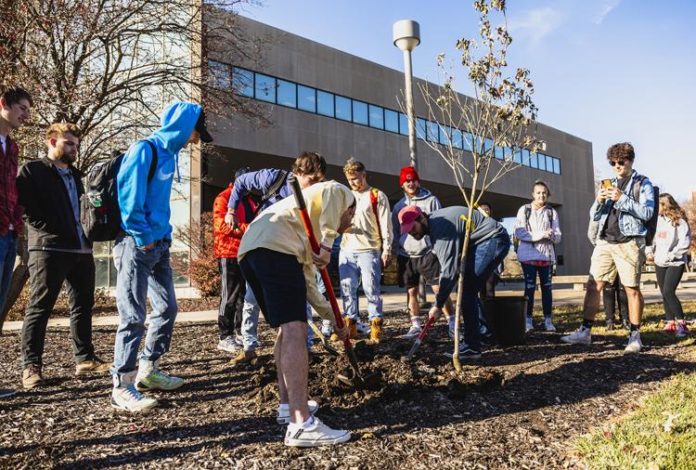 Amid piles of snow melting in the mid-afternoon sun, Delta Sigma Phi fraternity members sunk shovels into the recently-thawed ground to make way for a new tree commemorating their victory in Bearcats Going Green's Homecoming recycling contest at Northwest Missouri State University.
In addition to dedicating the Cherokee Princess Dogwood tree Nov. 15 in front of the B.D. Owens Library, the fraternity also received a trophy made from one of the trees destroyed in the 2007 ice storm that damaged more than 40% of the trees on campus.
Delta Sigma Phi collected 1,370 pounds of recyclable materials during the contest, with Sigma Tau Gamma coming in second at 1,335 pounds.
Clutching the trophy, Delta Sigma Phi President junior James Erlbacher said it was gratifying to be recognized for something they were already doing.
"Every single home tailgate, we clean up the tailgate lot with students," Erlbacher said. "And so we just saw this as an opportunity to go ahead and recycle it instead of wasting it, and if we win the contest, that's just kind of an added bonus."
This year was the first year a recycling contest was an official Homecoming event, and junior BGG Vice President Leah Gruber said she was pleasantly surprised with how many sororities and fraternities participated.
Gruber said the group chose Nov. 15 because it was America Recycles Day, and it aligned with warmer weather following a week of snow and below-zero temperatures.
"I think we did really well for the first full attempt at this," Gruber said. "There was definitely really good things that came out of it. There was really good turnout with all the recycling that they picked up, and it was really good seeing that they could all come together to help with this."
Sustainability Coordinator John Viau said aligning the contest with Homecoming was a great idea on BGG's part because it harnessed the competitive spirit associated with the week.
"My only hope is that we can help support them even more in the future," Viau said.
Gruber said the idea of the tree-planting was to offer a long-lasting reward to the winners while also adding to the Missouri Arboretum.