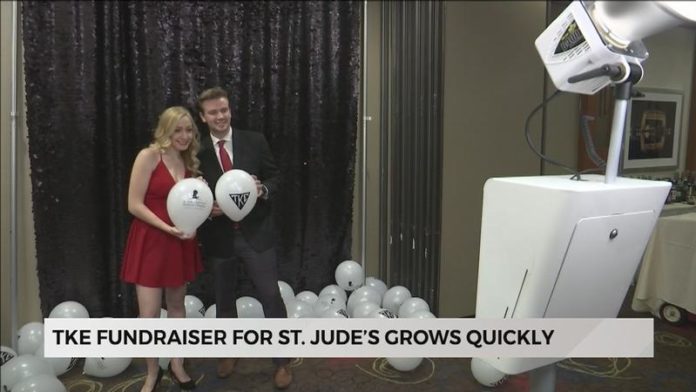 A University of Minnesota Duluth fraternity's fundraiser for St. Jude Children's Research Hospital has tripled in size in just three years.
The Upsilon-Gamma Chapter of the Tau Kappa Epsilon Social Fraternity decided several years ago to hold the fundraiser rather than their previous winter banquet. They raised $4,500 in their first year and then $10,000 last year.
On Saturday night, they're hoping to raise about $15,000 for St. Jude's with a gala-style event at the Greysolon Ballroom.  Some of the money comes from a silent auction of more than 50 items donated by businesses.
"We've had some large companies who've been involved, a couple of upper scale hotels in the cities like Hotel Ivy and a couple of local businesses like Security Jewelers and the Aquarium have been super-supportive of us as well," said Hunter Willmore, an organizer of the dinner.
The TKE fraternity raises money for St. Jude's because fraternity member Danny Thomas founded the hospital. Fraternity members watch videos to learn about the work done at the hospital in Memphis, Tennessee.
"We see these children that are getting their hair shaved off before they know how to ride a bike, they're going through chemotherapy before they've had their first kiss or anything like that," said Santiago Garcia, chapter president.
"On those kids' Christmas lists, it's not to get the new Xbox, it's not to get some new clothes, it's their health.  That's what's on their Christmas list," said Abdi Ali, who helped organize the fundraiser.
The fraternity has been planning Saturday night's event for several months. About 250 people are expected to attend the invitation-only event, which will include music, a silent auction, a presentation, and dinner.