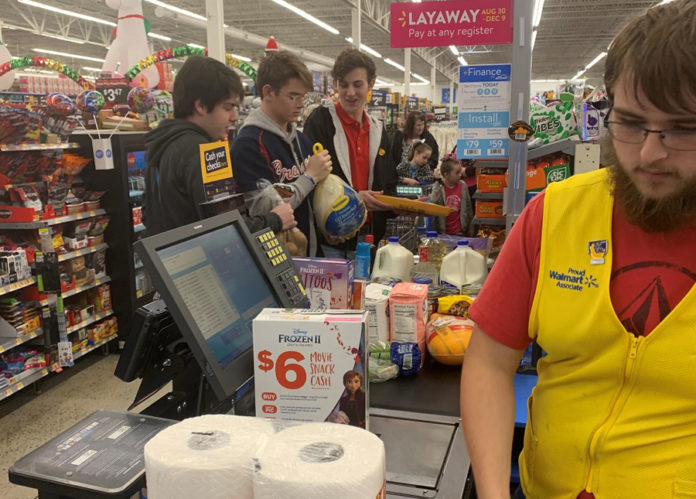 The University of Arkansas Interfraternity Council along with its 14 Greek chapters kicked off this holiday season by purchasing more than $5,000 in groceries for local families. On Sunday afternoon, over 50 fraternity leaders welcomed families at the Walmart SuperCenter on Martin Luther King Drive in an effort to help make this Thanksgiving special.
"For well over a decade, IFC has worked with LifeSource International and local churches to help identify families within the area who could use extra help during this time of the year," said Parice Bowser, director of Greek Life.
"I liked that our donations will have a tangible impact on people lives in the short term. I thought it was really cool that some families came with a list of what they wanted to buy, brought recipes and budgets, so they could have a meal they wouldn't typically have," said William Neely, outgoing president of Phi Delta Theta.
Each family was paired with IFC or a fraternity chapter. They were told to fill their baskets with groceries for the entire week including their Thanksgiving meal. With many local school districts being on break this week, families were also encouraged to get breakfast and lunch items along with various snacks for their children as well.
"I enjoyed seeing how happy the kids were with all the snacks that they had gotten to pick out," shared Michael Grimes, chapter president of Pi Kappa Alpha. Chapters also purchased diapers, formula and coats for families with younger children.
This annual event is one that many fraternity leaders look forward to each year. Although they enjoy purchasing turkeys and ham, it truly means much more. "It brings happiness to the families including providing us an opportunity to make a difference," Grimes said. "For this reason, we're truly thankful."