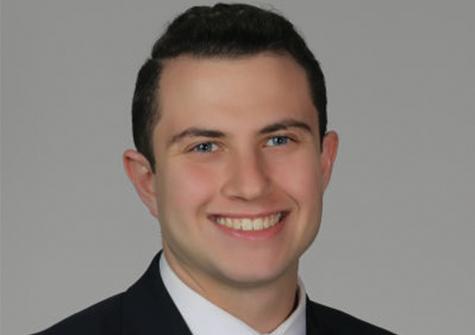 University of Michigan Sport Management senior Jeffrey Zachem is in some elite company. In October, the Delta Sigma Phi brother was selected as a Forbes Under 30 Scholar, receiving a scholarship to attend the Forbes Under 30 Summit in Detroit.
The summit was held on October 27-30.
According to its website, the summit brings the best young leaders, founders, and creators together for a life-changing four days of connecting, learning, teaching, and building. The 2019 Forbes Under 30 Summit is a more immersive experience than a static conference due to a private music festival, A-list speakers, investor speed-pitching, industry-focused field trips, a legendary pub crawl, a world-famous food festival, and a powerful day of community service.
The event featured over 200 world-class speakers and entrepreneurs in the areas of sports, media and entertainment, technology, music, fashion, finance, innovation, transportation, design, food and drink, and healthcare. Attendees chose from 20 different industry-specific content tracks, from crypto to sports to venture capital to consumer tech. Guest speakers shared their stories and broke down the experience into tight-knit communities comprised of attendees with similar interests.
The event concluded with a community service day throughout Detroit.
"I thought the conference was incredible. The speakers and opportunities that were provided were all amazing and I enjoyed myself. I think I was able to expand my knowledge regarding personal growth and trends in the business world," Zachem said.
Zachem attended multiple sessions on women's health in the workplace; witnessed a Republican presidential debate between former South Carolina Governor Mark Sanford, former Illinois Congressman Joe Walsh, and former Massachusetts Governor Bill Weld; and test drove a hands-free driving Cadillac. He also heard from sports industry players, including National Basketball Association players Kevin Durant and Blake Griffin, and spoke with several start-up companies on how they started their businesses.
"I think the conference is worth it even without a scholarship," Zachem said. "I was star-struck by the number of incredible speakers and events that were put together. The conference can provide an attendee with many different insights and perspectives, and can give someone ideas on what he or she can do to maximize his or her potential and position himself or herself to be financially stable."
To be considered for the Scholars' list, Zachem wrote essays on what makes him an innovator and leader. He identified different leadership roles in his fraternity, Delta Sigma Phi, where he currently serves as the alumni relations chair. As chair, he organizes alumni reunions and sends out newsletters to alumni and parents each semester. He also previously served on an Interfraternity Council committee.
Additionally, Zachem's essay detailed the work he did for JPMorgan Chase during a summer internship on the customer experience team. He was instructed to come up with a list of recommendations to reduce customer complaints and further deepen the relationship between Chase and its credit card customers.
Zachem, who is also minoring in Economics, hopes to turn his experiences and degrees into a career in sport management, focusing on finance or strategy. "I just grew up really enjoying sports, and not just the problems on the field, but what goes on off the field as well in terms of the business aspect," he said.
"I love understanding how society works when it comes to making business decisions, whether it be socially or politically," he continued. "Economics is very much related to that, so it's very interesting to see how all that plays out."
Zachem concluded by saying his favorite part about the conference was the debate, due to his interest in politics. "I found it interesting to hear their opinions regarding the current administration and their policies as a whole," he said.