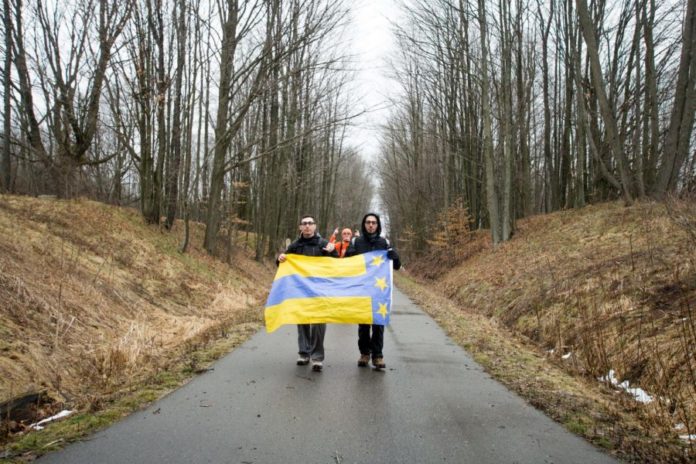 While many students at Grand Valley State University are looking forward to a relaxation-filled week off from school, the brothers of the Alpha Tau Omega fraternity will spend their spring break walking 160 miles from Traverse City back to Allendale for their annual "ATO Walks Hard" event, which raises money for the National Multiple Sclerosis Society.
The university's ATO chapter has held this event for the last eight years, and Jacob Best, who in his fourth years at GVSU and has made the trek twice, said it "shapes the culture" of the fraternity.
Nathan Stuart, a junior who is currently serving as the chapter's philanthropy chair, said Walk Hard was the reason he decided to join ATO as a freshman.
"I just thought it was so incredible," Stuart said. "It was just something I saw myself doing and wanted to get invested in."
The team walks an average of 20 miles a day, experiencing the aches, pains and fatigue folks with MS live with daily.
"It's a very humbling experience," Best said.
Although the journey can be extremely challenging at times, the men of ATO said it's not all horrible. The best part, Best said, is the brotherhood.
"You find yourself talking about almost anything," Best said. "You're an open book on the walk, and it's kind of great to be able to see what's going on in your brothers' lives and understand what they're dealing with."
Of course, they don't walk 160 miles just to hang out with their friends.
"The reason why I do it is it's really about that one person with MS who can live a little bit better because of what we do," Stuart said.
Over the past eight years, ATO has raised over a quarter of a million dollars to go towards research and lowering prescription costs for patients suffering from the neurological disease. Best and Stuart, who are both working towards degrees in the medical field, have worked first-hand with MS patients who could benefit from their fundraising efforts.
"No disease has any preference over one person or another," Best said. "So it's the least we can do to raise a little awareness for an awful disease."
Best hopes one day to open his own neurological research institute, and said this aspiration probably never would have crossed his mind if not for the work he and the rest of ATO do at GVSU.
The fraternity's efforts have affected Stuart's outlook on life as well.
"I want to serve others in some way, and that's a desire down deep in my heart. This is something that serves that desire," Stuart said.
Nearly a million people are living with an MS diagnosis in the United States, but Best said that number might be low considering how often the disease is misdiagnosed.
Unlike other neurological diseases like Parkinson's and Alzheimer's that generally affect folks 60 years or older, MS hits early. According to the National Multiple Sclerosis Society's website, most people with MS are diagnosed between the ages of 20 and 50.
There's currently no cure, but there are ways to limit the pain MS can put a person through. ATO's efforts have helped make access to that relief more accessible.
"People with MS always say to us how grateful they are to us," Stuart said. "But really we're grateful for them. They teach us how to be strong and make the most out of our situations in life."