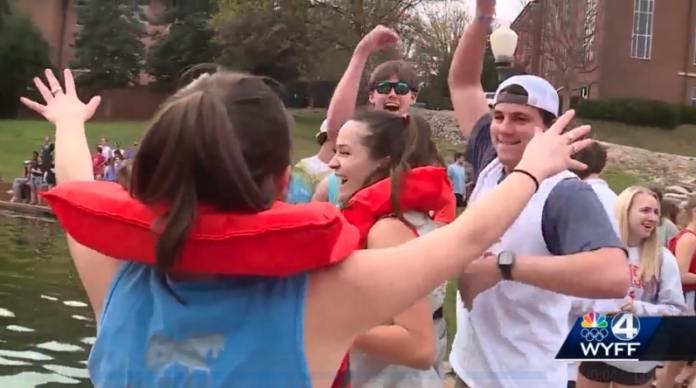 CLEMSON, S.C. — Every year, the Alpha Tau Omega fraternity host Viking Week, the fraternities signature philanthropy event. Viking week is a week long event where members of Panhellenic Council sororities compete in field day style competitions used to raise funds and donate money to a local nonprofit.
This year through their Viking Week, members of the Alpha Tau Omega fraternity at Clemson University say they are on track to beat the Clemson Interfraternity Council fundraising record.
Today, members of ATO coached members from Clemson sororities in a relay race across the Reflection Pond outside of the Cooper Library, an event that is sanctioned by the University.
"Two girls in a boat. They go down and then they switch off with the two girls on the other side and then they come back," said ATO President George Decarvalho. "It sounds really simple, but until you see it, it's awesome."
This year, all of the money that ATO raises through their fundraising events is being donated to Upstate Warrior Solution, an upstate nonprofit organization that assist veterans in need.
"I know the typical schedule and the typical priorities of most college students and I think this kind of distinguishes those guys and that they are willing to put on an event like this and raise funds for a group of folks who are kind of in the shadows and need assistance kind of in the darkest moments," said Warrior advocate with Upstate Warrior Solution Sam Wigly. "That's not something you typically associate with college students and they recognize that need and the fact that they are willing to get involved is a huge deal for us."
"They really just help veterans get back on their feet for whatever they need and help them transition back into civilian life," said Decarvalho. "We really felt like that was something our fraternity and the Clemson community could really get behind."
According to members of ATO, the fraternity has raised close to $25,000 so far, and are just south of the Clemson IFC fundraising record of $28,400; a record they believe they can beat.
Viking week continues through the rest of this week and ATO will know their total come this weekend.