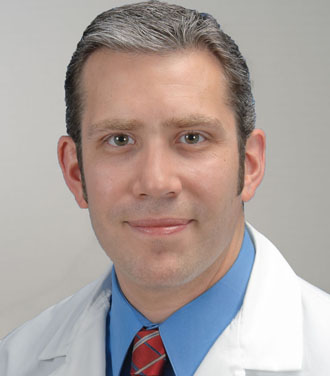 With the world engulfed in the coronavirus pandemic, the critical role played by medical professionals "on the front lines" of this public health crisis has become clearer and clearer. And that's especially true for alumnus and emergency medicine physician Dr. James Paxton (Case Western Reserve). Dr. Paxton is a Professor at Wayne State University's School of Medicine and works with the Detroit Receiving Hospital, whose emergency department treats more than 105,000 patients annually.
But those numbers could quickly be dwarfed in the current pandemic with Johns Hopkins University reporting 1,998 confirmed coronavirus cases and 63 related deaths in Wayne County as of this writing.
Dr. Paxton was gracious enough to share some of his limited time with The Delta and provide his perspective as an emergency physician working in the trenches of a public health crisis not seen since 1918.
The Highest of Stakes
"Many have begun to draw comparisons between this crisis and the 'Spanish Flu' (H1N1 1918) pandemic that ultimately infected 500 million people worldwide in a span of two years, killing about 10% of those who were infected," Paxton says, but notes that these viral threats are not new. "Of course, influenza has been with us for millennia, as have coronaviruses."
The major concern these viruses pose is in their mutation abilities. The 2019 novel coronavirus, which causes the coronavirus disease (COVID-19), shares a similar genetic profile to coronaviruses found in bats and it's hypothesized that the virus mutated in some form to infect a human host and then mutated again to become transmissible to other human hosts.
The coronavirus pandemic has meant some significant changes for Dr. Paxton's work in emergency medicine.
"A month ago, my emergency department (ED) was functioning at what we thought was peak performance," he shared. "Of course, we had minor issues to manage, but nothing like the current issues that my and other EDs are facing."
The concern from Dr. Paxton and other medical professionals is that COVID-19 is a respiratory illness and while some may experience mild symptoms, high-risk patients can see their conditions quickly deteriorate. These high-risk patients frequently have existing immune, respiratory, or heart issues such as asthma, COPD, diabetes, or heart disease.
Additionally, severe cases may develop acute respiratory distress syndrome (ARDS), which requires ventilating patients and can be fatal in about one-third of cases.
A Medical System Under Assault
Dr. Paxton also highlights the cruelly ironic situation our nation's medical system finds itself in. Advances in medical science over decades have resulted in communities with more people with chronic and serious conditions.
"For many of these chronically-ill patients, this virus is enough to send them over the edge," he says.
But that's not to say that only one group is being affected by this pandemic.
"But we are also seeing relatively healthy patients, including some with asthma, uncontrolled hypertension, or even no known medical problems, presenting extreme cases. This is perhaps the most concerning aspect of this virus, like the H1N1 1918 pandemic, with previously healthy patients making up a large proportion of the victims."
These two dangerous factors intersect with a medical system's already stretched supply chain to create a potentially deadly outcome.
"Because of the dramatic presentations that we are seeing in the ED, a relatively greater proportion of patients are being intubated, which is leading to a shortage of ventilators," Dr. Paxton says. "The net result of all of this is that we are seeing a lot of shortages in our ED. We have shortages of ventilators, personal protective equipment like gloves, N95 respirators, gowns and face shields, and a shortage in manpower."
And it's the manpower shortage that is putting the biggest physical strain on medical professionals who are frequently already performing non-stop and concurrent shifts.
"Physicians and other clinical providers are being sent home if they develop any symptoms of viral illness, to prevent infecting others. But this increases the burden on those providers who are still asymptomatic. There is limited excess capacity in the system for most EDs, and these shortages are going to lead to increasing challenges for our nation's EDs in the coming months."
For as much is changing for Dr. Paxton, much still looks and feels familiar.
"I show up for work every day like usual. To be fair, my job has always been chaotic – but that is what I love about it. Emergency physicians are usually people who don't mind working on limited information and under austere circumstances. This is exactly what this pandemic is creating."
Speaking to their values, emergency physicians remain on the front lines of this pandemic and are quickly becoming the ones who are falling to COVID-19. Studies are currently hypothesizing that this is due to the amount of "viral load" an infected individual receives. This idea essentially correlates fatalities to exposure and amount of virus received, which would explain while healthcare professionals and their repeated exposure become almost as hazardous as those working in the immediate fallout of Chernobyl.
However, Paxton shares that the Hippocratic Oath has never been stronger.
"Please know that your emergency physicians are available for you, 24-hours a day and seven-days a week. We are coming to work everyday intent on treating and helping anyone who crosses our path. But also understand that this is a challenging time for most Eds in this country. We have shortages in almost every drug and resource that we took for granted a month ago. Things are changing daily, but for the time being we are severely limited in what we can do and provide for patients."
And this is resulting in medical professionals making the hardest decisions. Decisions that no medical school course or textbook can prepare you for.
"Healthy patients are being turned away after a brief interview and exam, not because we don't want to help, but because we must conserve our resources for those who will not survive without them," he says. "Few events have prepared us for the difficulties that modern healthcare will be facing over the next few months."
What You Can Do
"As a member of the medical community, I must endorse the CDC and NIH recommendations regarding social distancing and appropriate precautions against viral transmission," Dr. Paxton says. "We don't yet know who is really at high risk for death or serious problems from contraction of this virus."
In fact, much of the scientific community has been on a break-neck sprint to find as many answers about COVID-19 as they can since its earliest days. The very first medical literature covering COVID-19 in some detail came from the Chinese doctors who initially discovered and battled it in Wuhan, China. Since then, there have been amazing advances, blind spots still exist.
"The death rate from COVID-19 is currently about 4.5% of those tested positive, which is probably inflated since we are only really testing those who are critically-ill or severely symptomatic," he says. "Even in a 'worst-case' scenario, current reports suggest that COVID-19 is less than half as fatal as H1N1 1918 (Spanish Flu), and most patients will probably have a relatively mild course of infection."
Regardless, the concern remains about the quick and sneaky transmission of the virus which could endanger high-risk populations.
And it's in that effort that collegiate and alumni brothers can help do their part to make a significant impact.
"My best advice is to self-quarantine for at least 14 days if you have symptoms," says Dr. Paxton. "This means stay at home and do not go to work, school, or any public gatherings."
The most common symptoms of COVID-19 are dry cough, fever, fatigue, muscle aches, and in some cases a loss of smell or taste.
Dr. Paxton also stresses the important of good hygiene habits like washing hands frequently with soap and warm water for at least 30 seconds and close-proximity physical contact.
"I would encourage brothers to avoid going to the ED if you do not have serious medical concerns. The EDs are epicenter of this pandemic, and if you do not have COVID-19, the best way to get it is to go to the ED and be exposed to others with the infection."
The Good and Bad
As with most crises, the best and worst of people have quickly become apparent. Thankfully, most has been the best but one of the worst aspects has been the hoarding or forced shortages of "essential" items.
"People are stockpiling these items in preparation for societal shutdown," Paxton says. "I would encourage our brothers to consider the needs of your fellow citizens. As a society, we must be guided by the broader view of the public welfare, and we are all in this together."
Dr. Paxton encourage brothers to extend the Helping Hand whenever they can, take only what they need, and become advocates for those in their communities who need it the most right now.
"Continue to be courteous and considerate of your fellow human. These are trademarks of a Sigma Nu and are needed now perhaps more than ever in the last century."
The Future
And in it is in that spirit that Dr. Paxton has immense optimism for the future:
"I have never been prouder of my Sigma Nu experience than I am today. I have received text messages and emails from Brothers that I have not spoken to in years, who have offered their prayers and hopes for me over the last few weeks, as we face this global challenge, together. Whether you are on the front lines, or supporting us from the rear, please know that the men of Sigma Nu are in this together. The fundamental principles of Sigma Nu – Love, Truth, and Honor – have never been more essential, or more important, than they are today. I would encourage our brothers, in whatever capacity they find themselves, to promote our principles as fully as they are able. Be a good citizen. Help those who cannot help themselves. Do what you can to support your communities. The value of Fraternity has never been more evident than it is today. We are needed, and important, as Fraternity members. This is our time to prove why communities need Brotherhood, and why Brotherhood relies upon our communities for purpose and commitment. Grasp this opportunity to prove why Sigma Nu is great, and why commitment to these ideals will lead us through this challenge into even greater prosperity."