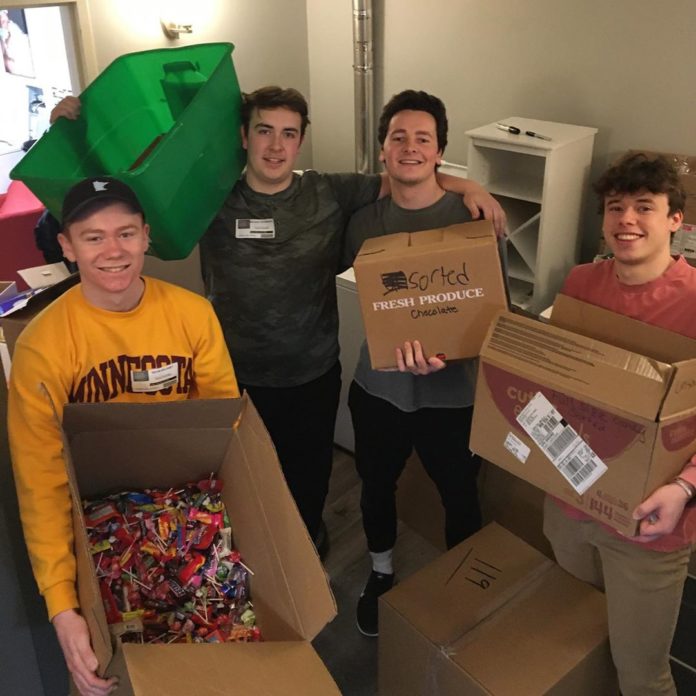 With the cancellation of in-person fraternity events, the University of Minnesota Interfraternity Council is turning to online platforms to continue its philanthropy.
To keep with social distancing guidelines, the IFC, which is composed of about 30 fraternities at the University, launched a fraternity-wide GoFundMe fundraiser in April for Second Harvest Heartland, an organization that supports food banks in Minnesota and western Wisconsin.
"Fraternity chapters have their certain philanthropies that they support throughout the year," said Max Bredenkoetter, the philanthropy chair at Sigma Pi. "With COVID-19 going around, I realized all of these chapters can no longer do their fundraisers."
The IFC's goal is to raise $20,000 for Second Harvest Heartland, and it has currently, as of Sunday, gathered more than $1,300 since the fundraiser launched earlier this month.
In addition to donating face masks and gloves, food banks like Second Harvest Heartland also need support, said Christian Durfee, the IFC's social media outreach chair.
With spikes in layoffs creating a greater need for food banks, Durfee and Bredenkoetter chose Second Harvest Heartland to address potential shortages.
"There are going to be a lot more people throughout America — especially in our Minneapolis-St. Paul community — who are in need of these food banks," Bredenkoetter said. "Those who already relied on food banks will be a more vulnerable population."
Without event outreach, operating on a solely virtual platform could make raising awareness about the fundraiser more challenging, Durfee said. In addition to social media, the IFC is printing banners to hang outside of fraternity houses and working with IFC's in other states to spread the word.
"We're just trying to help the community, as best as we can, create a centralized donation link," Durfee said.
The IFC's main fundraising event, their annual hockey tournament, took place in February, and the group was able to raise $20,000 for the University's Masonic Children's Hospital before the pandemic. However, their second fundraiser planned for Spring Jam had to be pushed back to the fall due to the coronavirus outbreak. Individual fraternity chapters also had to cancel their spring fundraising efforts.
"We're just hoping that we can get the community and people who aren't in Greek life as well to help donate to this cause because … we want this to be a full community effort to help everybody else," Durfee said.
Bredenkoetter also said that community outreach beyond Greek life is important.
"This is bigger than just a fundraiser for the Greek community. This is a nationwide and global pandemic," he said.