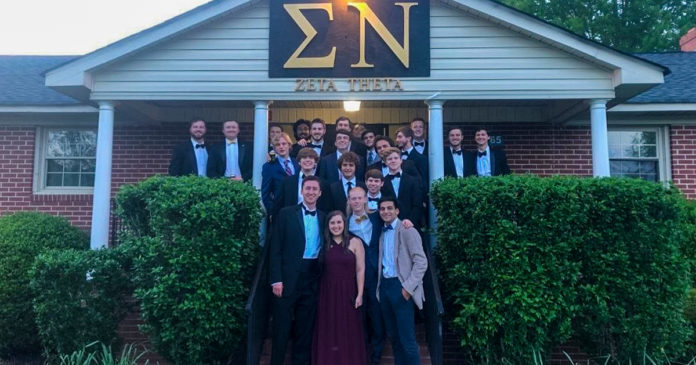 Andrew Kyzer was in high school when he volunteered at Harvest Hope Food Bank with his youth group at church, packing emergency food boxes during South Carolina's historic flooding in 2015.
He worked with the group packing non-perishable and perishable items like fruit, vegetables, bread, meat and dried goods.
"I had a good time," said Kyzer, now a junior at PC, "and when I finished volunteering, I knew that I had completed a good deed during this crisis. I knew these boxes were going to people that needed them."
Seeing the Need
After the experience, he added Harvest Hope on Instagram, where he was able to continue to follow the work of the food bank. It was through the social media app that the Sigma Nu fraternity member saw Harvest Hope's need during the current coronavirus pandemic.
From news reports to the Instagram page, Kyzer read about the large numbers of people the organization has been feeding.
"One of the posts I saw said that they were serving over 500 people daily, and this was record numbers," he said. "It went on to say that they have never seen this many people needing food even during the 2015 floods … I got to thinking, and I really wanted to help out the local community and the citizens of South Carolina alongside my brothers."
'We can come together'
From there, Kyzer visited the website to see what they were offering and noticed the food bank was sponsoring a virtual food drive. He reached out to Harvest Hope to help, then to his fraternity members and the rest of Greek Life.
Harvest Hope provides hunger relief across 20 counties in South Carolina from Greenville to the Midlands and the Pee Dee. 
Kyzer, the philanthropy chair of Sigma Nu, has been getting the word out about the service project through fellow fraternity members who are posting to social media and through emails to other Greek Life presidents and philanthropy chairs.
He's also reaching out to family and friends to encourage donations, as well as friends in the Physician Assistant Program and Pharmacy School, to share it with other students.
"We can come together as a unified body to stand for one cause and help out the citizens of South Carolina," Kyzer said. 
Living Out the Motto
Along with this campaign, he and his fraternity brothers have been involved with several other service projects, including volunteering at fraternity member's Will DeLaney's 4th Tuesday Soup Kitchen, which he started in Spartanburg. On average, the soup kitchen serves about 45 people on the fourth Tuesday of each month.
The fraternity also helps with the CHAMPS program from raising money throughout the school year, and hosting events like "Car Wash for a Cause" and "Eat a Biscuit, Inspire a Student."
Sigma Nu's service has also included:
collecting school supplies for Laurens School District 56
participating during MLK Service Day at the Battle of Musgrove Mill State Historic Site
and volunteering at Our Little Shop Safe Home in Laurens and the annual Special Olympics event hosted at PC.
"Sigma Nu has helped me get involved on campus and in service while living out our motto, Dum Vivimus Servimus," Kyzer said. "This opportunity will help me carry this motto out for the rest of my life because it was instilled in me as our philanthropy chair and by the College."
For more information about how you can help raise money for Harvest Hope Food Bank, please visit the fraternity's campaign page.