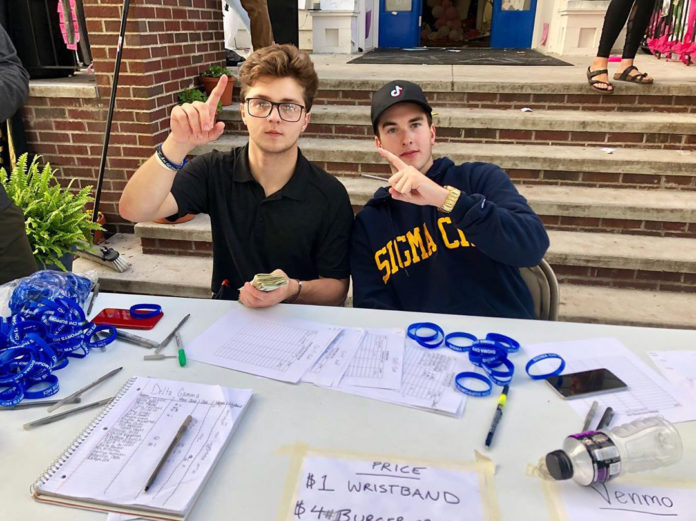 In the fall semester at University of North Dakota, sororities and fraternities welcome new members into their organizations with lofty goals: to develop leadership skills, encourage brotherhood and sisterhood, build up scholarships, and create everlasting friendships for the next four years of college.
One traditional way to achieve those goals has been through charitable activities.
Each year, up to 500 freshmen enroll for recruitment, a chance to join a sorority or fraternity they believe in. While freshmen fight for a spot in the organization, 40 to 50 members find who would be the best fit to bring into their sorority or fraternity.
Every Greek Life organization on campus holds a fundraising event for their chosen national charity. Alpha Phi holds philanthropy events for women's heart health and fighting heart disease, Sigma chi holds philanthropy events for cancer, and Kappa Alpha Theta holds philanthropy events for CASA: Child's Advocate Special Advocates. Alpha Chi Omega holds philanthropy events for domestic violence awareness, and Delta Gamma holds events to benefit Service for Sight to help the blind, to cite a few examples.
Sigma Chi has one main philanthropy each year that lasts a week long. This is known as "Derby Days," with five separate activities for the week. Each sorority that chooses to participate has opportunities to win points for each day through activities and attendance.
On Monday, the sororities come to the Sigma Chi house and decorate the house as best as they can with their sorority gear, flags and posters. The house with the most decorations on the walls wins the points of that day. Tuesday is the grill-out, each visitor can pay money to donate to a charity for a hamburger or a hotdog, as well as play yard games. The sorority with the most attendance wins the points on that day.
On Wednesday, there is a Derby Chase. Each member of Sigma Chi wears a colored hat corresponding to their year in school, except for the fraternity president, who wears his own colored hat. Each color hat is worth a different amount of points for sorority members who "capture" the hats. On Thursday there is a flag football tournament. Any fraternity or sorority can participate, and the winners score a date party of two sororities and two fraternities including Sigma Chi.
Sigma Chi donates all the money that is made to the Huntsman Cancer Institute in Park City, Utah, for research and treatments. The fraternity also participates in numerous other philanthropies within Grand Forks every year, donating money raised to meet the greatest needs in the city.
"I have met more people than I could ever imagine because of Greek Life," said Berg Labahn, a junior and member of Sigma Chi. "We have speakers come and talk about their experiences, we have an alumni network that is extremely helpful especially with finding future jobs and connections.
"To me, charitable work is a small but very effective way to make our community a better place. It has brought perspective into my life and I will be eternally grateful for the blessings I have received throughout my life."