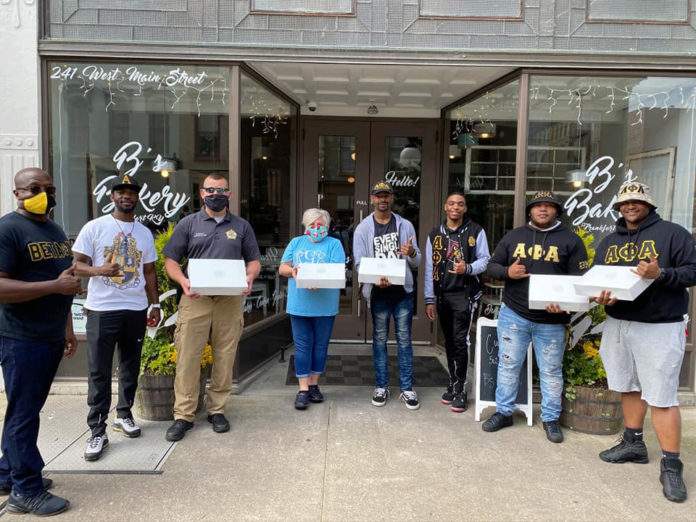 Alpha Week is a longtime Kentucky State University tradition in which Greek student organizations plan campus activities.
This year's coronavirus pandemic meant the event couldn't be held as it had in years past, but KSU and Alpha Phi Alpha fraternity graduates wanted to make sure undergraduate members of the fraternity didn't miss out.
A weeklong schedule of events was planned, and the fundraiser netted $1,200.
The Beta Mu chapter of the fraternity spent $600 providing food to employees at Frankfort Regional Medical Center and cookies to the Franklin County Sheriff's Office, with the other $600 planned for a scholarship.
Because of its generosity, Alpha Phi Alpha fraternity has been selected as this week's Traditional Bank Unsung Hero.
"We had been talking about having some kind of service event with the undergraduate members," said Michael Ghant, a 1999 KSU and Alpha Phi Alpha graduate.
"Some alumni had been talking on Zoom, and one night when we were talking it had a snowball effect."
That snowball led to a week of activities. There was an online question-and-answer session about COVID-19 with KSU graduates in the medical and mental health fields.
On April 28, a private reception took place to mark the founding of the Beta Mu chapter at KSU on April 28, 1932.
There was also the Alpha Apollo, a show that featured singers, poets, rappers, comedians and musicians, a virtual alumni edition of the Miss Black & Gold Pageant and a weekend cookout with music provided by DJs.
The weeklong event came together quickly, just 10 days after the alumni's Zoom call.
"I can't say it was easy, but it came together," Ghant said. "Everyone did their part to put it together."
Ghant, originally from Detroit, is the music director at Stewart Home and School, and the decision was made to use the fundraiser money locally.
The fraternity bought pizza from DaVinci's to donate to the staff at Frankfort Regional Medical Center, and it purchased cookies from B's Bakery to donate to the Franklin County Sheriff's Office.
"Kentucky State is in Frankfort," Ghant said, "and it's part of the community."