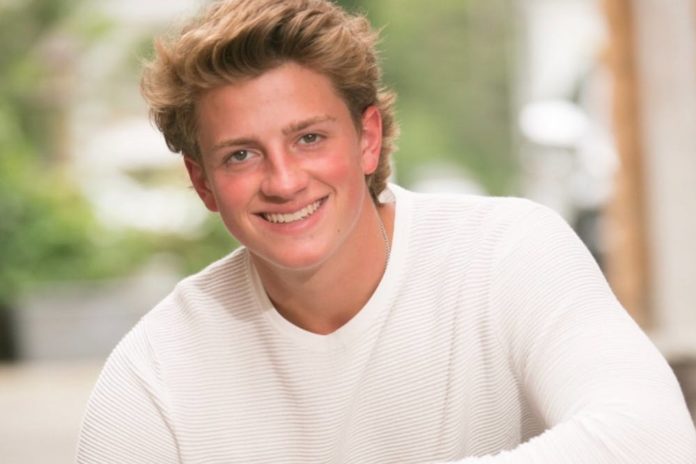 On Feb. 8, 2021, 20-year-old Michael Zyrek was working out and had to stop due to excruciating pain in his head and neck.
The Sigma Nu chapter officer from Michigan State University wasn't sure what was wrong and was experiencing near unbearable pain, so he rushed to Sparrow Hospital in Downtown Lansing.
Zyrek, doctors soon realized, had suffered from an arteriovenous malformation (AVM) as well as an aneurysm that caused bleeding in his brain. Per the GoFundMe page that has raised more than $160k for him and his family's medical expenses, Zyrek has been taken to the University of Michigan Neurology Intensive Care Unit in Ann Arbor and is set to undergo surgery on Wednesday an update on the fundraisers' page said.
According to the page, Zyrek's case is more than just rare — it's only seen every 15 years, according to the fundraiser updates. Per the GoFundMe page, doctors at Sparrow were not able to locate the root of the brain bleed, AVM and aneurysm that occurred due to risk of paralysis.
As of the afternoon of Feb. 16, the GoFundMe page that was created by Aly Hryciuk and James Zyrek to help with the expenses of Zyrek's medical care that are not covered by insurance has raised more than $170k.
"It just organically exploded and it is something that brings tears to your eyes. We were sitting around as a family last night with my mom, dad, and younger brother Josh and were brought to tears by the overwhelming support," James Zyrek, Michael's older brother, said in a phone interview.
"He has always been a kid with a really good head on his shoulders who has always been on a good path and is constantly looking out for others," James said.
Zyrek, a sophomore business student, graduated from Rochester Adams High School in 2019. He is vice-president of Sigma Nu fraternity and was an all-state hockey player while playing for Rochester United and the Junior Oakland Grizzlies hockey teams during his K-12 years.
This coming Wednesday, Michael will have his next surgery to attempt to go and shut down the aneurysm. Three of the top four doctors at the University of Michigan's neurological department will be operating on him and the money donated to the GoFundMe is going towards this medical procedure.
"I am the president and he is vice president of the Fraternity. Usually, the President does a lot and vice president assists him but with Michael, it is the closest to 50-50 that you will ever get because he takes so much stress off of my shoulders. Sometimes it is like he is the president because of all the stuff he does," Sigma Nu Fraternity President Chris Lorelli said. "He is straight-up. He will motivate you when you are down and tell you when you are doing something wrong and teach you how to do it right."
"Michael has always been a leader for us in the Fraternity and always tries to keep other brothers on track — whether it is with grades or behavior, he has always been a leading role," Sophomore Nick Kania, one of Michael's fraternity brothers, said. "Michael is one of the most selfless kids that I have ever met as a friend, and his absence has really had an impact amongst the house and our Fraternity in general."
"That is why this whole thing is so unfortunate because Michael is really the best one of us all. He is the one who is emphasizing that Sigma Nu is not just about letters or social status but it is about brotherhood and we are here to love each other," Sophomore Carlo Munaco, another member of the fraternity, said.
Currently, this GoFundMe is the number six top trending page on the website.
"I came up with the idea for the GoFundMe after I found out how serious this is," Lorelli told The State News on Tuesday.
"I reached out to his girlfriend saying I think a GoFundMe would be really good to cover medical expenses and bills that they have to pay. We got the go-ahead from his parents and contacted his brother. We then shared (it) to our individual networks to get all the donations that we can."
"It shows by how much we have raised what kind of guy he is. The money speaks for itself."
The link to donate can be found here: https://www.gofundme.com/f/michael-zyreks-medical-expenses?utm_campaign=p_cp+share-sheet&utm_medium=copy_link_all&utm_source=customer or by searching "Michael Zyrek" on the website.
"There is no thought to it because they know that he would do it for them," Sophomore Reed Vogt said.