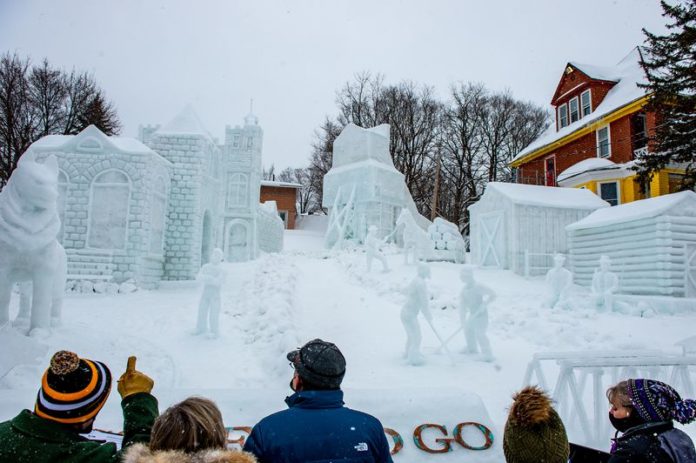 HOUGHTON, MICH. — Every year in the weeks leading up to Michigan Technological University's beloved Winter Carnival, there are always signs that the fiercely competitive, deeply secretive work behind the annual snow statue competition has begun.
For starters, "snow bandits" appear everywhere: students driving around to find piles of the essential building material, shoveling it into the backs of their pickup trucks before slushing it in giant pails to begin the molding process.
There's also not a used hair dryer or clothes iron to be found around town — since these are essential tools to sculpt the snow into intricate, impressive designs.
The statues have become a spectacle that's synonymous with Winter Carnival, which celebrates its 100th anniversary this year. Organized each year by the students of Michigan Tech's Blue Key National Honor Society, Winter Carnival is a revered community celebration that showcases the region's 200-plus inches of snowfall with dozens of competitions and events.
There is no Carnival competition quite as astounding as the snow statues, though. In recent decades the statues have grown in both size and complexity: previous years' entries have towered over nearby buildings, incorporated interactive design elements, and even featured details like chain link and stained glass, all formed out of snow and ice.
The statues are the result of two hotly contested events: The month-long competition, starring elaborate sculptures made by Michigan Tech's fraternities, sororities and other student organizations, and an "All-Nighter" competition that starts at 5 p.m. one evening and is judged at 9 a.m. the following morning. Though it's all part of Carnival's rollicking celebration of all things winter, the student groups take their work very seriously, following the Blue Key society's long list of rules and, in some cases, relying on top-secret tips passed down institutionally year after year.
The winners of the 2022 Winter Carnival's month-long statue competitions were announced late last week, with Phi Kappa Tau's mind-boggling installation clinching first place, extending the fraternity's winning streak to four years in a row. Though Winter Carnival has officially wrapped for this year, the statues will live on as long as the winter weather will let them.