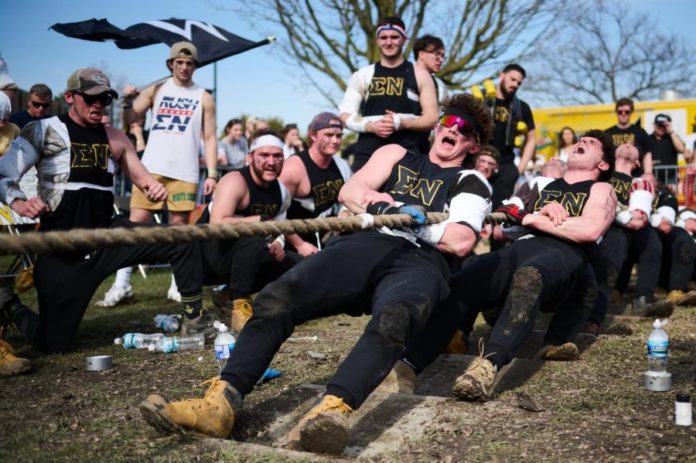 The fraternity beat runner-up Phi Sigma Kappa in the final round of the tug-of-war bracket on Saturday
A crowd of NIU students, staff and alumni gathered Saturday afternoon to cheer on the finalists of the 2022 InterFraternity Council Men's Tugs competition. Sigma Nu took home the first place trophy after defeating Phi Sigma Kappa in two rounds of tug-of-war.
Prior to the championship round, the battle for the third place ended with a victory for Phi Kappa Psi over Alpha Sigma Phi, who took fourth place in the tournament. Tau Kappa Epsilon took fifth place and Delta Chi was placed in sixth after one of their team members was injured earlier in the week.
Tuggers and flag-bearers for Sigma Nu and Phi Sigma Kappa entered the pit at 3:30 p.m. Fans cheered them on, filling the bleachers and the surrounding fences. IFC board members recognized the university and other supporters for their help in working with Greek Life to put on the event in support of Safe Passage, DeKalb County's domestic violence and sexual assault crisis center.
The IFC  raised $10,000 for Safe Passage through the event according to IFC Tugs organizer Mason Deyo. Nearly 700 tickets were sold throughout the week of matchups.