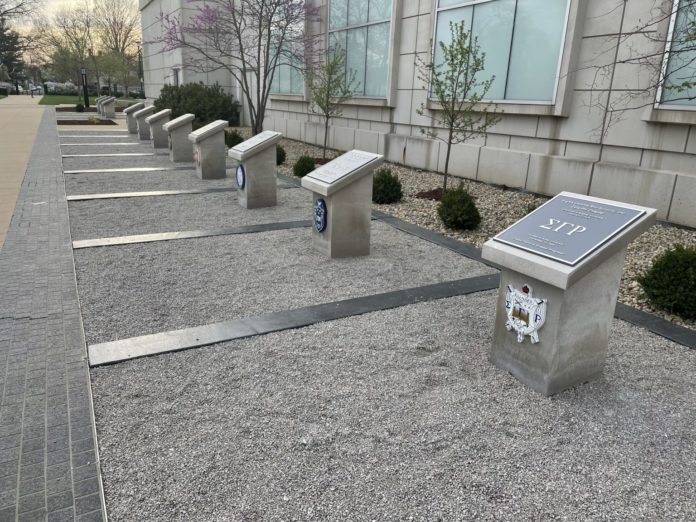 Alumni Quad is now the new home for symbols of dedication to numerous Greek life organizations of Bradley, ensuring that their presence on campus will be set in stone.
On April 23, Bradley's National Pan-Hellenic Council (NPHC) and Multicultural Greek Organizations (MGO) held a ceremony on the quad, dedicating 11 plots representing organizations chartered at Bradley. The dedication was one of several events included in the Bradley University Black Alumni Alliance (BUBAA)'s annual reunion, which ran from April 22 to 24.
The organizations that received a dedicated plot were Sigma Lambda Beta, Alpha Psi Lambda, Sigma Lambda Gamma, Alpha Phi Alpha, Alpha Kappa Alpha, Kappa Alpha Psi, Omega Psi Phi, Delta Sigma Theta, Phi Beta Sigma, Zeta Phi Beta and Sigma Gamma Rho.
The event featured speeches from Bradley President Stephen Standifird, 2021 Bradley graduate and past NPHC president Charles Myers, current NPHC president Lynnae Williams and Sigma Lambda Gamma member Ariana Galvez.
According to Myers, the idea for a plot initiative was introduced in late 2019 and supported by a partnership between the council and the MGOs in spring of 2021. However, the idea of introducing plots has been requested by NPHC alumni repeatedly for "many generations."
"This [partnership] pushed us to create a space amongst our organizations to challenge, disagree and support each other in a way that we hadn't," Myers said. "It was this space … that helped us rediscover why we do what we do, pushed us to fight harder and ultimately birthed the plots that we see here today."