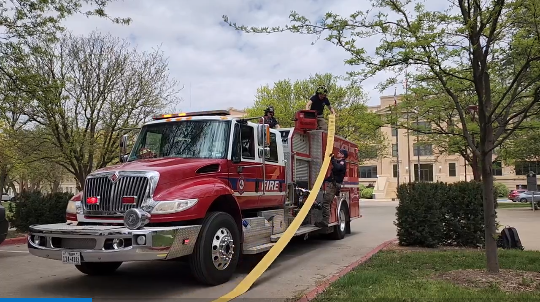 #ServingTheCommunity: Hector Rivero-Figueroa, Omega Delta Phi Theta Chapter at West Texas A&M and a team of engineering students created a device to help Fire Departments speed up the hose-rolling process.
The West Texas A&M University students developed the device during a mechanical engineering class focused on solving a real-world problem
CANYON, Texas — A group of college students has unveiled a device designed to speed the process of rolling up a firehose.
The West Texas A&M University students developed the device over a 16-week mechanical engineering "Advanced Mechanics and Design" class. The class focuses students on implementing actual designs; in this case, the device was built for the Randall County Fire Department with the goal of minimizing staffing needs for this fireground task.
As reported by Amarillo.com, Hector Rivero-Figueroa, one of the students involved in the project, said the difference between this device and what many fire departments use to roll up hose is a more expensive hydraulic that is hard-wired into one truck. The new system is electrical and can be moved from one truck to another with relative ease, according to Rivero-Figueroa.
Rivero-Figueroa said the device will now be implemented in the Canyon Fire Department, and it could make its way to other departments, too.