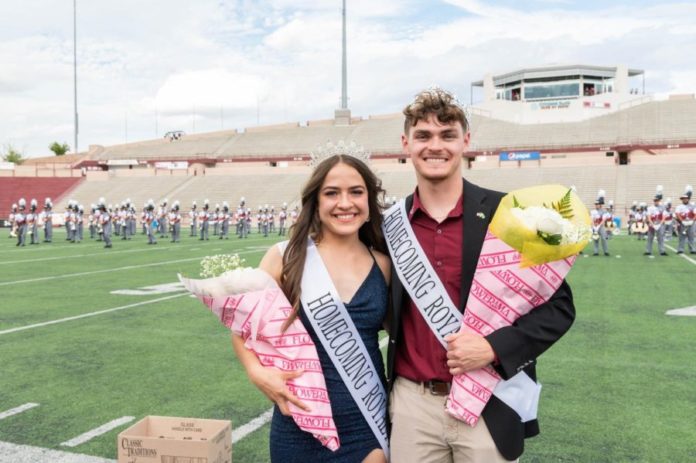 New Mexico State University's homecoming took a somber turn with the passing of San José State football player, Camdan McWright. As the game was postponed and many were feeling sad, there still was some fun to come from the weekend. In place of the football game on Saturday Oct. 22 the school held a memorial and celebrated the Aggies' homecoming. During this celebration out on the field this year's royalty was announced, with Molly Parra, a Chairwoman for Panhellenic and a member of Zeta Tau Alpha, being named queen and Cael Alderete, a member of Alpha Gamma Rho, named king.
This year's homecoming royalty got a new upgrade with more gender inclusivity for those who wanted to be more involved in the race. "It [homecoming] was different by making it a bit more competitive," Alderete said.
This could mean that we would see nonbinary people running for a royalty position that was gender neutral or the possibility of two kings or two queens. "I'm glad there is more inclusivity," Parra said.
"I campaigned by posting and sharing campaign flyers with my sorority counterpart Molly," he said. Making this new competition more fun for the competitors to campaign.
Alderete gave insight on how the Interfraternity Recruitment picks its nominee. "Each fraternity had the opportunity to submit their nominations for homecoming king to represent the Inter-Fraternity Council. Once nominated, each fraternity went back to their chapters to vote on which nominee they wanted to support. Then each fraternity came back and submitted their vote as to who they wanted to represent IFC," Alderete said.
Parra opened up about how this royalty win is a great feeling. "It's awesome to be crowned and being able to represent my organization for homecoming but it doesn't change who I am," Parra said.
Alderete expresses how the win made him feel many types of emotions. "It felt overwhelming but in a good way. I had no idea I had so much love and support out there in the community. I just want to give a huge thanks to everyone that supports me," he said. "It felt surreal being in the spotlight like that, but now I am just grateful and extremely humble to have a great community by my side.