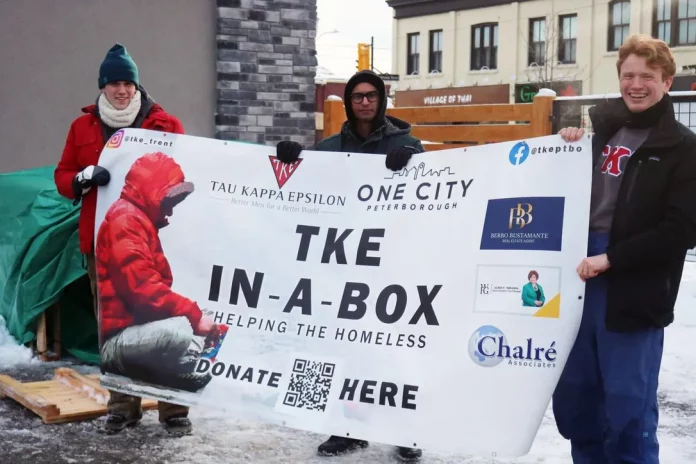 Volunteers from Tau Kappa Epsilon (TKE), a student fraternity at Trent, are preparing for their 12th annual TKE in a Box fundraiser from Feb. 10 to 12, with the goal of raising $5,000 for Habitat for Humanity Peterborough and Kawartha Region.
TKE members plan to camp for 48 hours in the winter cold in the Venture North parking lot at 270 George St. N. in downtown Peterborough for the annual event that raises awareness about housing insecurity in the Peterborough region.
"We saw that the former Mayor made a statement that Peterborough is in a housing and homelessness crisis," said Alexander Mills, former TKE president.
"So, since that message came out, we decided that if helped Habitat build these 12 condo units, it would be us trying to do our part when this crisis has become more apparent."
Funds raised will go toward supporting the second phase of Habitat for Humanity's condo project at 33 Leahy's Lane in the city's northeast end, according to Jenn MacDonald, communications and donor services manager for Habitat for Humanity Peterborough and Kawartha Region.
"Phase 1 was a 41-unit condo project on Leahy's Lane, completed in April of 2022. So, this will be Phase 2 of that project, which will be located on the same property," she said.
"It will be bringing 12 affordable units to the City of Peterborough, including 11 two-bedroom units and one one-bedroom unit that will support low to middle income families and individuals that are in need of affordable home ownership."