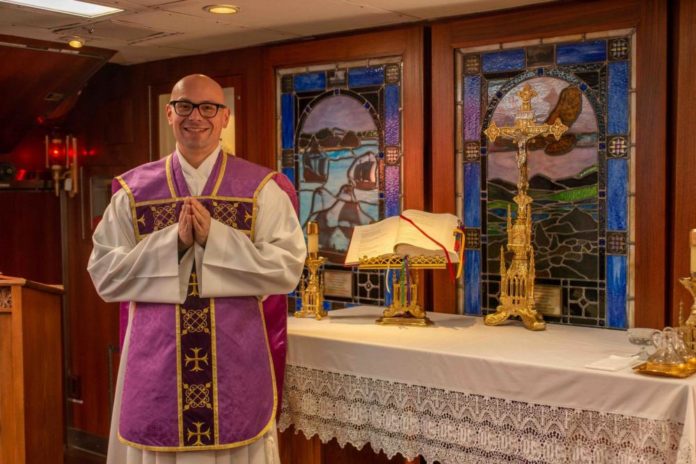 Everyone can relate to having a past, even chaplains. U.S. Navy Lt. Jacob Meyer, a chaplain, lived the life of a normal college student in a fraternity, gaining experiences and a more diverse outlook on life before devoting his life to the Catholic priesthood.
Meyer grew up in South Bend, Indiana, and attended college at Ball State University where he majored in human resource management and organizational culture. After realizing he wanted to branch out and diversify his friend group during his sophomore year, Meyer decided to join a fraternity on campus, the Sigma Alpha Epsilon.
"I definitely lived the frat boy life," said Meyer. "I was a bartender and a bouncer, and I had a great time. I loved my life and I was a sweetheart for a sorority, the Chi Omegas."
Meyer explains that a sweetheart for a sorority is a fraternity brother voted, "to be like a big brother to all of the sisters." He took a protective role over the girls and would attend all of their events, plan their parties and help them with anything they needed.
"For example, there were a couple [sorority sisters] that got into trouble at a party and they were having a problem, and I just rolled in to intervene. They called me and I grabbed some of my brothers and we were like, 'We will fix the problem.'"
Meyer says that being a sweetheart for a sorority enlightened him to the needs and behaviors of the opposite sex. He enjoyed his time in his fraternity, growing friendships, and gaining a different perspective on life working with both men and women. Something that pursuing priesthood right away may not have offered him.
"Everyone even in the fraternity called me 'chaps,'" said Meyer. "If you wanted to talk about God or religion or whatever, go talk to Jacob. At 1 or 2 a.m., when the party is ramping up or when somebody has had a little too much to drink, what do they end up talking about? They end up talking about God or truth in general and my room was the one place that they came to to talk about that."
Despite not having a typical background for a priest, with the support of his family and fraternity brothers, Meyer finished his degree and joined the seminary to receive priesthood education to continue to further his ability to be a resource for others.
As Meyer progressed though his priesthood, he saw many similarities between his time helping others in the fraternity house and the parishioners of his church. Through those similarities, Meyer was able to show others that priests are regular people with similar interests to their own.
"A lot of people have certain expectations of Christian ministers and Catholic priests," said Meyer. "You're supposed to act in a certain way and I don't like to be placed in a box and I am definitely not someone who is afraid to get dirty, and to just get into the messiness of life with people. So, I don't hold myself above that which means, you know, I also like the karaoke bar, just like anyone else does."
Like some of the Sailors he now works with, Meyer never planned on pursuing the military to accomplish his goals.
[…]