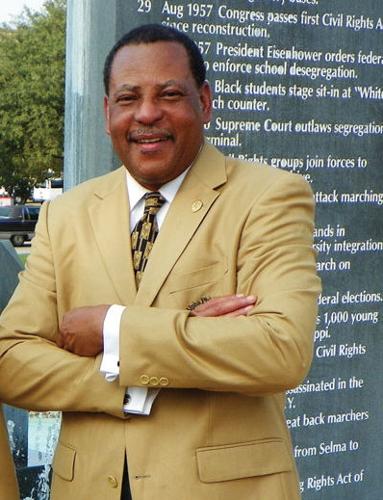 ALBANY — After a three-year pause, an Albany fraternity's program teaching middle school boys the risks and responsibilities in sexual matters and how to make good choices will resume next week.
The Gamma Omicron Lambda Chapter of Alpha Phi Alpha Fraternity Inc. will host about 30 boys in grades six through eight for Project Alpha, a full day of counseling and activities at Kolomoki State Park.
"We're extremely excited," Albany dentist Dr. William R. Berry III said of restarting the program. "We were just getting ready to have this in 2020. That was when the pandemic started and everything was canceled."
The program, a national fraternity effort in partnership with the March of Dimes, includes sessions with the entire group and smaller sessions with counselors.
It will cover topics including abstinence and the consequences of early sexual activity, peer pressure, HIV/AIDS, teen pregnancy, STDs, relationships, being a responsible father and "what it means to be a man."
"We cover it from all aspects," Berry said. "We cover it from a medical aspect, from a legal aspect and from a psychological aspect. It's just important if you look at the teenage pregnancy rate, especially in southwest Georgia, compared to other parts of the state and the nation."
The focus on males in the middle school age group seems to be a good fit for the program.
"A lot of programs talk about what the females can do, but we like to look at it from the aspect of what the male can do," Berry said. "It takes two to tango. We found (that) if we started this in high school, it's too late."
Sex education is no longer taught in the schools as it was in the past, and some of those who will be reached may not have other reliable sources through which they could receive the information, Berry said.
"It's a difficult subject to approach," he said. "In the past, they used to get at least some of this information in school."
Male role models also are welcome to accompany the group, which departs at 6 p.m. April 21 and returns at about 10 p.m. the following day.
"We encourage the father to come with them, or it could be a grandfather or the significant male in the middle school child's life," Berry said. "We have found they (kids) will ask questions here that they will not ask at home."
Fraternity members, including those in the medical field, law enforcement and Dougherty County District Attorney Greg Edwards, will be among those making presentations.
The goals of the program, for which the fraternity has won several national awards, is sharing knowledge, changing attitudes by providing young men with motivation to make positive changes in sexual behaviors, and providing skills to create a sense of empowerment and self-esteem.
The participants also will get to tour the Kolomoki museum and participate in team-building activities.