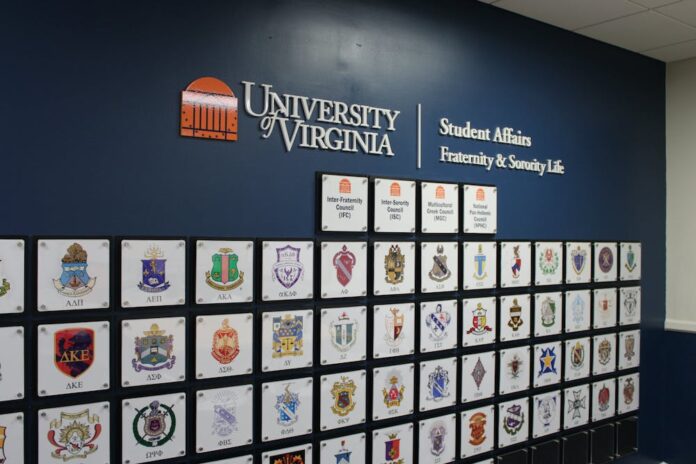 The IFC received over 80 applications for the counselor position
The Inter-Fraternity Council is beginning a recruitment counselor program for formal fraternity recruitment this winter. The recruitment counselors will be mentors to those rushing, similar to the role the Inter-Sorority Council uses which is called a Pi Chi. The IFC mentors will serve as a resource for questions and advice during the process. 
Joseph Kratz, president of the IFC Governing Board and fourth-year College student, said the recruitment counselor program is part of a larger effort to increase accessibility to students who are interested in rushing a fraternity.
"IFC rush is weird and unique, and lots of people just don't know where to turn to with questions they have," Kratz said. "The goal is that every person going through rush will have a specific person whose name they know that can be an older person who can help answer any of those questions as they go through it."
The IFC is also making other changes to rush this year, including increasing advertising for financial support and shortening the rush process to two weeks from two and a half weeks. The IFC currently charges a rush fee, which was raised from $20 to $50 in 2021. The fee is used to fund dues scholarships for members. In 2022, the IFC allocated $12,500 for scholarships. 
Ben Ueltschey, IFC vice president for membership and third-year College student, said the IFC moved the start date to the Sunday before classes begin instead of after classes and decreased the period of recruitment to avoid extending too far into the academic year.
According to Ueltschey, the IFC introduced recruitment counselors after students asked for more rush resources from the IFC. He also said there were discrepancies last year between students who didn't get a bid and fraternities who still wanted to give out bids, which the IFC hopes to improve with the new program. Unlike ISC rush, the IFC does not require potential members to attend every house, a process that can lead to uneven interest between houses.
Over 1,700 students are involved in the 30 fraternities on Grounds. In 2023, roughly 800 students participated in IFC formal recruitment, which Ueltschey said they expect again in 2024.
The IFC received over 80 recruitment counselor applications — more than they were expecting, according to Kratz. He said they plan to accept the majority of applicants, which will allow them to pair roughly 10 students with each counselor. The counselors will attend a required training session before rush begins.  
While Pi Chis' must have recruited for their chapter in previous years and cannot be an incoming recruitment chair or president, IFC's counselors are not required to have already participated in recruitment as an active fraternity member.
This year's IFC recruitment will be kicked off with a rush orientation where students will meet their recruitment counselor. Over the following two weeks, counselors will be available to answer questions and concerns, but there will be no formal requirements for when students have to meet with their counselor.
"You still have a lot of free range of what you do, but we're just there to be a resource as you need," Ultschey said.
Ueltschey said this year will be a trial run for the counselor program, but they expect the recruitment counselors to make the recruitment process easier, both for fraternities and the students who are rushing.
"We know they're going to do good things and lessen the gap between fraternities who are struggling for members and guys [who aren't receiving bids]," Ueltschey said.
IFC recruitment will begin Jan. 14, before the beginning of the spring semester.