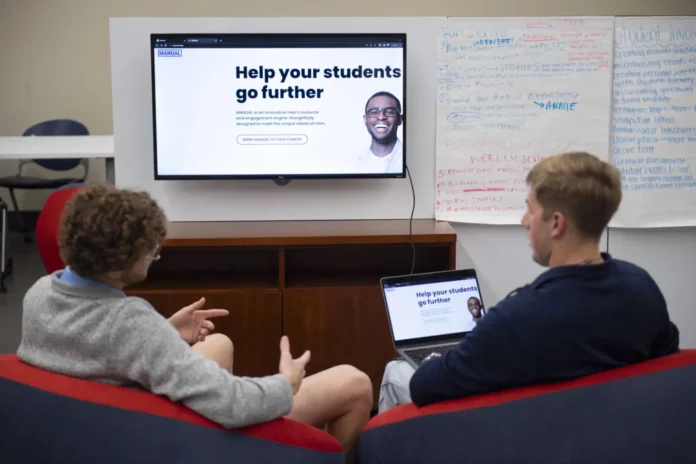 A student-led partnership at the University of Mississippi promises to help male students better manage their mental health.
The university's Interfraternity Council and the William Magee Center for AOD and Wellness Education have partnered to offer Manual, an online program focused on mental health challenges for men. Users have 24/7 access to trained professionals to discuss a broad range of issues via phone call or text.
Ole Miss students can access these resources by logging in and creating a free account on the Manual app or website.
Ashton William Heath, IFC president, said he sought out a service this past spring that could mitigate the health and wellness challenges that college-aged men like himself face.
"Our IFC decided to partner with this company specializing in providing accessible resources on nutrition, sleep, mental health, fitness and more, specifically geared towards men," said Heath, a senior accountancy major from Jackson. "This incredible partnership could not be possible without the generous financial support given to us by the William Magee Center."
The most common mental health challenges for all college students, based on professional assessments, include anxiety, depression, substance use, suicidal or self-injury behaviors and eating disorders.
Heath said he has the Manual app on his phone and has used it many times, especially during stressful weeks.
"I was dealing with stress and not being able to sleep as restfully when I have a busy week with school and student organization obligations," he said. "One of the videos recommended writing out on paper or notes app what you need to accomplish each day of the upcoming week and times to ensure that you have a successful week."
Research indicates that men are less likely than women to seek help for mental health difficulties. By providing easy access to reliable information online, Manual helps men take the first step.
"The first step is to open up and talk, with no issue being too embarrassing, no subject being too taboo," said Shannon Richardson, Magee Center assistant director. "Then users have to embrace holistic solutions, avoiding quick fixes."
All members of the Ole Miss chapter of Alpha Tau Omega fraternity enrolled on Manual last spring. New members will be enrolling in the coming weeks.
"In the past, Manual has helped me with my summer planning whilst getting ready for the semester," said Alexander Whyte, of Ocean Springs, the chapter president. "It has reminded me that being able to unwind is an important part of being productive in school. I appreciate the interactive software, and the emails are always a boost for my day."
Don Fruge III, Sigma Nu commander, said that using Manual has opened the door for some tougher conversations among his fraternity members.
"I have downloaded it and seen what it has to offer," said the senior accounting major from Oxford. "It has allowed our members to step out of their comfort zones, and it has helped me see what all is out there."
Magee Center administrators initially contacted Manual to determine if the platform would be a good service for UM students. A conversation with the app's staff led to integrating the platform on the center's website.
"We are in the beginning stages of marketing all of the resources offered by Manual so that men on our campus know about the wealth of wellness opportunities," Richardson said.
"After reviewing testimonials from students, I am confident that Manual provides a much-needed space for young men to receive accurate and relevant information about topics such as mental health, personal finance, fitness, substance use, relationships, sexual health, purpose, nutrition, sleep and more."
Recognizing the signs of mental health issues is vital to addressing them, said Kristin Austin, clinical assistant professor of psychology and director of the psychological services center.
"Signs that students may be struggling with their mental health include withdrawal from activities they typically enjoy and increased irritability," she said. "Another sign is a change in their typical functioning, such as drinking more, sleeping more or less, not spending time with friends or family, or a drop in grades."
Austin advises that students should see professional help when:
Strategies to address their challenges have not worked
Mental or emotional distress has lasted longer than it has in the past
Symptoms and/or distress are interfering with daily life.
"A person should always seek help when they are experiencing thoughts of hurting themselves," she said. "The Suicide Hotline, 988, can be a helpful number to know."