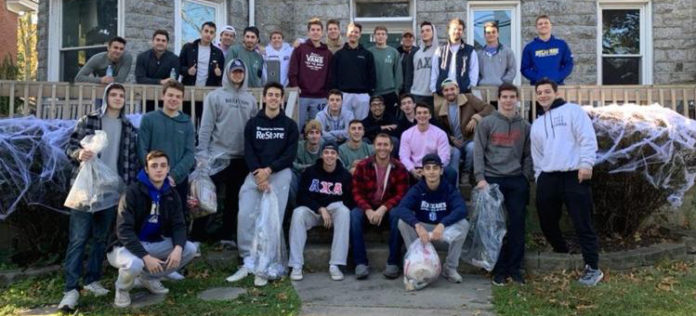 More than 100 University of Delaware fraternity members rolled up their sleeves and grabbed trash bags Saturday morning, aiming to clean up Newark streets – as well as their reputation in the community.
"The idea was we wanted to show the community we're not just kids who want to go party," said Anthony Guccione, a UD junior from New York who serves as vice president of community relations for the Interfraternity Council. "We want to show we're more than that."
The volunteer effort comes during a year when student behavior in residential neighborhoods has been a hot topic, culminating in the passage of the controversial unruly gathering ordinance in March.
The fraternity brothers, representing 17 frats at UD, joined 70 other community members in the Newark Parks and Recreation Department's twice-annual community cleanup.
They got involved at the urging of Newark Police Department Sgt. Greg D'Elia, who spearheaded the unruly gathering law and has been working with UD students to get them more involved in the community.
Guccione said fraternities and sororities at UD participate in many philanthropy initiatives, most notably the UDance dance marathon that raises $2 million for childhood cancer research each year, but the community cleanup provided a chance to make an impact locally.
"That's global. We wanted to show Newarkers we do stuff around Newark, as well," he said.
The students picked up trash on the streets surrounding their fraternity houses, Guccione said, noting that a number of their neighbors took notice and expressed their gratitude.
"We want to show we care about our neighbors as citizens," Guccione said.
He said the project provided a good message to his fellow fraternity members, as well.
"We're not just kids living on a college campus. We're living in a community," he said. "Lots of guys woke up and realized that."
Guccione said he hopes that participating in the community cleanup becomes a tradition for the fraternities and noted that the Interfraternity Council is planning to organize its own cleanup the day after St. Patrick's Day.
"That's one of the rowdy days, so it would be good if we cleaned up," he said.