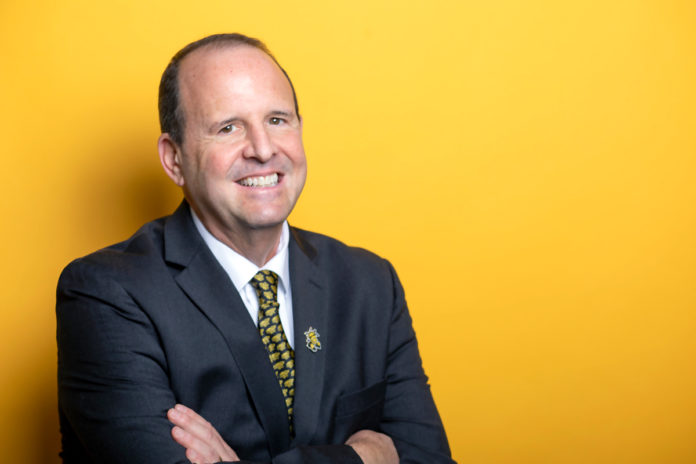 Wichita State University's new President, Jay Golden, is a leading researcher in environmental sustainability and an advocate for applied learning and economic development.
The Alpha Epsilon Pi brother will become Wichita State's 14th President in January 2020 during a period of rapid growth for the university and changes in higher education. He brings a background as a leading thinker and national leader on environmental sustainability, applied learning and economic development.
Golden was introduced to students, faculty and staff and community leaders on Oct. 31 following his appointment by the Kansas Board of Regents. Golden is currently vice chancellor at East Carolina University, with responsibilities including developing public-private partnerships and building research campuses.
His previous faculty and administrative roles have been at two highly admired universities, Arizona State and Duke.
At ASU, he founded and co-directed the Sustainability Consortium, then the world's largest industry-academia collaboration focused on research and workforce development. It included many of the world's top 150 manufacturers and brands.
His current institution is part of the University of North Carolina system, as WSU is part of the Kansas Regents system. East Carolina University, based in Greenville, has about twice the student population and three times the budget of WSU. Some of that difference comes from being in a much larger state and having a medical school and dental school.
He's deeply concerned about educational quality and affordability.
"In addition to providing the best possible educational experience and learning opportunities, Wichita State University must provide a great value, or return on investment, to our students and their families," Golden said. "I would task WSU to apply its innovative spirit to find ways to reduce student debt and be a leader in containing the increasing costs of attendance."
Golden is married to Dina Golden. They met while both were students at Arizona State. He was a member of Alpha Epsilon Pi fraternity and served on the inter-fraternity council at ASU. She was a member of the Delta Delta Delta sorority and graduated from the ASU College of Business with a degree in supply chain. She has worked for Fortune 500 companies in manufacturing and mining.