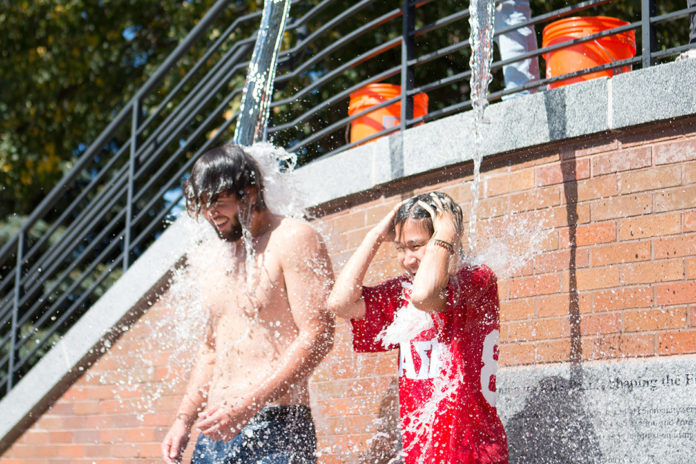 Freezin' for a Reason. That's the motto of Rochester's Polar Plunge and now the adopted saying for third-year game design and development student Harry McCardell. He's ready to represent his fraternity, Phi Sigma Kappa, as president and run into frozen Lake Ontario.
McCardell, from Mays Landing, N.J., has had the drive to give back to the community from a young age and it has followed him through the years.
McCardell, who was on the biggest team for the 2019 Polar Plunge, is excited to defend this title again this year, on Feb. 9, at Ontario Beach Park. The event begins at 9 a.m.
What made you join a fraternity?
It felt like it was fate, honestly. I joined a random intermural hockey team because their name was the Mighty Ducks—I love The Mighty Ducks. I got to know the guys on the team and after a few weeks I found out that they were in a fraternity. I got to know more brothers of Phi Sigma Kappa throughout the year and I really liked what they stood for. The spring semester of my freshman year was when I decided to join. I thought about all the things it could do for me in the long run so I just went with it.
What's your favorite thing about your fraternity?
I was really fortunate to be elected president of Phi Sigma Kappa last spring. That has been a crazy ride. I love that there are leadership conventions and conferences that brothers have the opportunity to attend. I was only in the fraternity for about two weeks when they sent me to Atlanta for a leadership convention. We attended seminars, participated in small group activities and even partook in a big ritual, which was very interesting. It's really cool to meet brothers from all over the country and know we still represent the same values. It's fascinating to instantly connect with these guys like your brothers back home.
What kind of volunteer opportunities have you done here at RIT?
I have done a bunch of programs through the Center for Leadership and Civic Engagement. I went on alternative spring break last year in Charleston, S.C., where we did a bunch of community service stuff. We painted a whole house in three days and we cleaned up a community garden. It was nice spending a whole spring break doing something meaningful and not just lounging around at home. Volunteering is something that I have always done. With the fraternity I get to do a whole lot more with Special Olympics which I already have past experience with. It's nice to have an organization that you can connect with.
What other things do you do with Special Olympics?
In the fall we help out with the Fall Classic, which is when the Special Olympics of New York sets up a big soccer tournament. We volunteer there, running the score board and doing the skills competition. This year, we brought back Plunge a Tiger though the fraternity and with the sorority Alpha Sigma Alpha. We fundraised on the quarter mile at RIT, where people would donate money to dump buckets of water on us. All the proceeds of that went straight to Special Olympics for Polar Plunge. I got to plunge last year and I'm very excited to do it again. We also host the Spring Classic. It's a big track meet here in the Gordan Field House. It's cool to hang out with the Special Olympics athletes, just talk and spend the day with them.
How does the Polar Plunge work?
Phi Sigma Kappa and Alpha Sigma Alpha set up the RIT team and we have our brothers and sisters sign up. Anyone can join the team as well, just follow the link. Last year was my first time so I didn't know exactly what to expect but I knew it was going to be freezing cold. There was this huge tent with probably 500 people just standing around, all nervous but ready to jump into the water. The timer started to count down and we all got super excited. It was nice to see so many people supporting this great cause, all for different reasons—it's really unifying.
If you could leave a legacy here at RIT, what would it be?
I know that there is a huge stigma against Greek life and right now we're all having a tough time with recruitment. I want to show the community that there is more to Greek life than what you see on TV or in movies that put us in a bad light. It really stinks but we are going to continue working hard and giving back to our philanthropies.