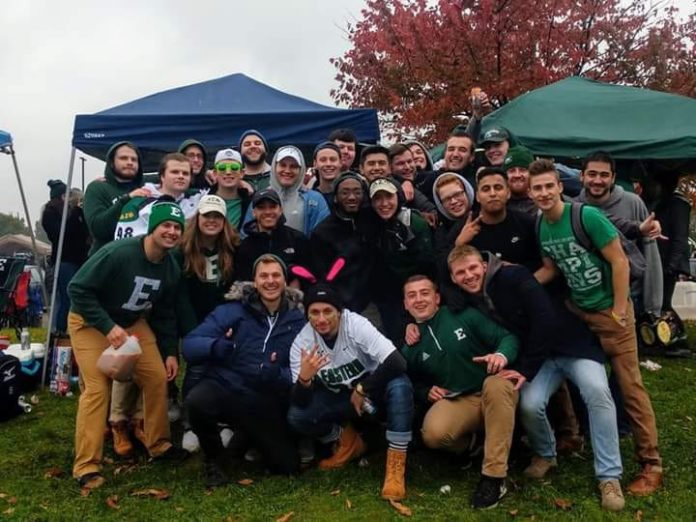 "Better Men Better Live" are 4 simple words that might seem hollow in this day and age of politics, culture, masculinity, and daily life, but those same 4 words are powerful in their simple message especially when it comes to my fraternity Delta Sigma Phi Fraternity.
I am a part of the chapter here at Eastern Michigan University, joined since winter 2017, and never looked back ever since. Being a part of this chapter has taught me a lot of valuable lessons and skills that I never thought would stick with me to this day. One of the most important is believing in something bigger than myself.
Over the years, as I got older and more active with chapter I seen it's highs and lows. I've seen chapter go through some of the roughest patches, one of which is losing a brother to suicide almost 2 years ago. Chapter has made me laugh, cry, angry, happy and determined. It has grown to be something more to me than I thought possible and that is a home away from home.
I see these brothers currently as a part of my family, and have grown to be amazing friends with them, some more than others, but still friends regardless. They gave me the tools to help be able to tackle most of everyday life.
I was given opportunities in leadership, team work, marketing, communication, and so much more. They are still teaching me a lot to this day, such as better money management and learning to don't be afraid to ask for help. They've taught me the importance of giving back to my community, and making a difference in the lives of others by my actions. They taught me not to be a pushover, and to stand my ground, supported me in my endeavors of self-growth and pursuing my dreams as a video game designer even going as far as trying out a game I programmed from scratch.
Now I said they taught me what it means to be a part of something bigger, well here's how: Through the continued efforts of other brothers, who sacrifice their time, and are willing to help make this chapter grow into something better. Whether that is staying an extra hour at an philanthropy event, taking on multiple chairs, working multiple jobs to help pay dues to keep the chapter afloat, or being strong leaders that understand brothers and wanting them to succeed in the roles they are given, and seeing they are much more than themselves or others outside of chapter think of them.
Chapter has changed a lot, and is going through another hurdle but with the brothers I see almost every day, I know that we can overcome it because we are fighters, and fighters never quit, they get back up, dust off the knees and go for another round. This is to my brothers who read this, or will read it eventually, just know that I am proud to call you brothers and you have taught me a lot of valuable lessons in life, being a better man, and being a part of something bigger than myself.