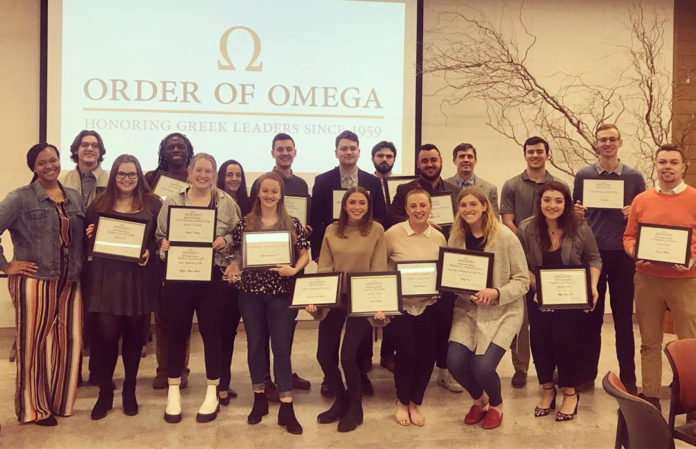 Gettysburg's Greek organizations have donated nearly $200,000 to various causes over the past three years, more than half of which has come from Sigma Chi's philanthropy with the Huntsman Cancer Institute. In total, six organizations have donated more than $10,000 in the past three years, while four others were not able to provide records of their giving.
"One of our core values is making the world a better place through a dedication to serving others. Our philanthropic efforts, from community service to raising money for cancer research, illustrate that core value," Sigma Chi Philanthropy Chair Jack Luedekke '21 said. "Our chapter is extremely proud of our contributions, especially considering our size and the size of Gettysburg College compared to other schools."
Another organization with a strong record of philanthropy is Lambda Chi Alpha, which hosts a Ruck March 5K that has provided $3,900 to a multitude of non-profit organizations supporting veterans over the last two years. Last year's proceeds went to the TruBar Foundation, which is a non-profit that helps homeless veterans. (Lambda was not able to provide records from the 2017-18 academic year.)
In addition, Lambda's recent Watermelon Bust activity generated $8,700 for Feeding America, a non-profit organization that distributes food to impoverished communities aacross the country, and a flag football game raised $210 for South Central Community Action Programs (SCCAP), a social service agency in Adams and Franklin Counties.
Phi Gamma Delta, commonly known as Fiji, has raised $7,244 toward the William Templeton Foundation for Young People's Mental Health and to a breast cancer foundation this year. Last year, they raised $9,000 for the Leukemia and Lymphoma Society, and, in the 2017-2018 academic year, they raised $2,000 for the United Service Organization.
Phi Gamma Delta Philanthropy Chair David Nadeau '21 said that the chapter's philanthropic efforts have sought to address issues the chapter has faced directly.
"The driving force behind why [Phi Gamma Delta] chose these organizations was on behalf of members who were directly impacted by leukemia and issues related to mental health," he said. "In 2018, a now graduate brother was diagnosed with leukemia and [Phi Gamma Delta] sought to support him through raising funds for the society."
Phi Delta Theta has donated about $2,000 annually to Adams County Youth Services as well as about $2,000 in the last two years to Homes for Our Troops, and Sigma Nu has raised $3,600 for Relay for Life and the Gettysburg Food Bank. Alpha Chi Rho has raised $1,700 from their 5K event over the last three years. In the 2019-2020 academic year, the money went to SCCAP, but members were not sure what organizations received funds in previous years.
Phi Kappa Psi provided minimal information about their philanthropy, except to say that they have raised around one hundred dollars in both 2019-2020 and 2018-2019. They could not specify where this money went, but suggested that in the past their donations have supported Big Brothers, Big Sisters and the American Society for the Prevention of Cruelty to Animals (ASPCA). 
"Service is an integral part of all Greek organizations," the Panhellenic Council Service Chair Ana Geddes '22 said. "Philanthropy is taken seriously in the Greek community, as we all recognize how important it is to use privileges afforded to us to help create positive change."