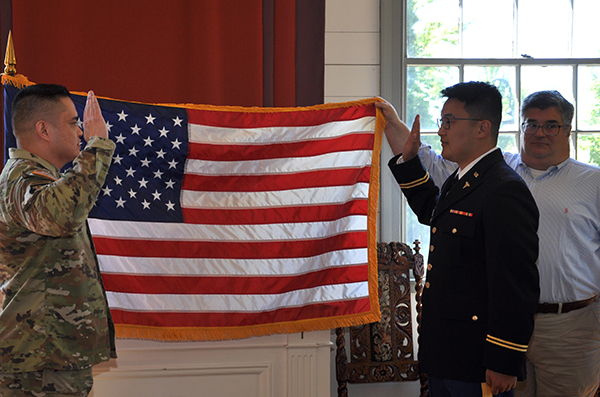 With his parents unable to attend his commissioning ceremony due to the pandemic Shenghao (Josh) Zhou (Oregon State University, 2019) knew he could count on support from Jason Feiner (Bradley University, 1997) and Karla Staihar who have become his "local parents" since he joined Delta Lambda Chapter. Feiner and Staihar affixed his rank insignia boards to his uniform as he was commissioned as a second lieutenant in U.S. Army.
"Karla and I are grateful to be Josh's local family and we are so proud of him. We look forward to continuing to support him on his journey," said Feiner who was the Delta Lamba Chapter advisor throughout Zhou's time as an undergraduate.
The ceremony in Old College Hall on the campus of Pacific University in Forest Grove, Oregon was not the first Feiner attended to congratulate Zhou on advancing in his military career. Three years ago, Feiner and Delta Lambda Chapter President Andrew Lovre (Oregon State University, 2021) attended Zhou's graduation from basic training at Fort Leonard Wood in Missouri. Denise Giesbers, director of veteran support services at Pacific University, coordinated the ceremony. She also presented Zhou with a gift and invited him to ring the bell at Old College Hall, a symbol of the university's history that rings only to commemorate special events.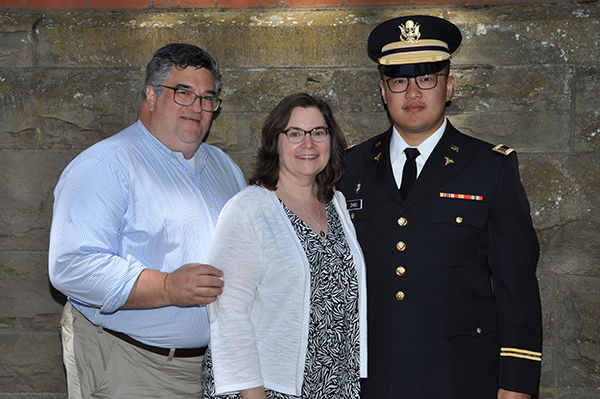 Motivated by a lifelong interest in science, Zhou began thinking about a career in medicine as a teen when his grandfather's illness was misdiagnosed. Zhou is now enrolled in medical school with a scholarship from the Army at the Pacific Northwest University of Health Sciences in Yakima, Washington. He appreciates the widespread support he's found in pursuing his passion.
"Jason and Delt as an organization have supported me tons through the process— including getting recommendation letters from him. Jason didn't even hesitate. He just wrote my medical school recommendations and my Army commissioning recommendation letters for my scholarship. I'm very thankful for that," Zhou said.