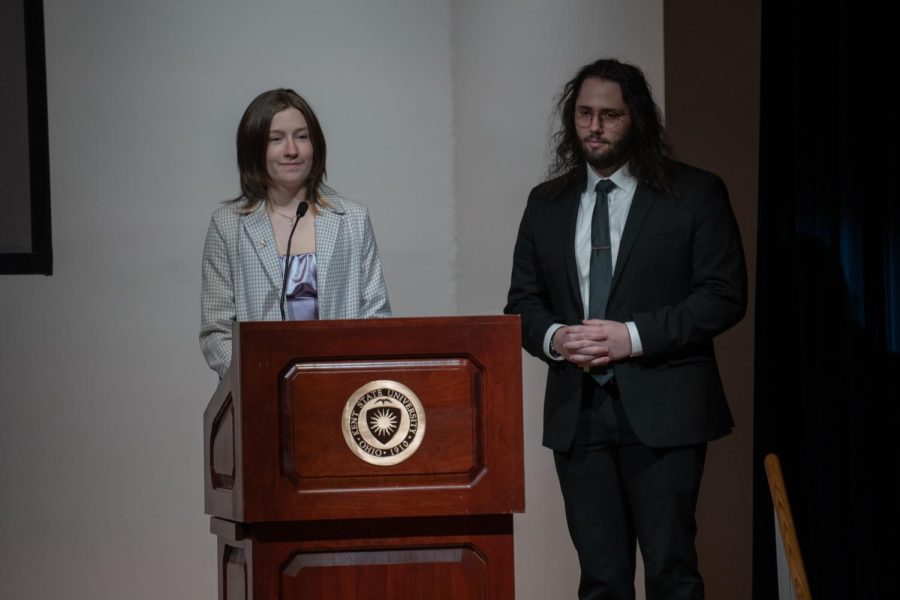 Awards were given to Greek life members and organizations at the annual Night of Achievement Awards Tuesday evening.
The ceremony was put on by Kent State Fraternity and Sorority Life and hosted in the KIVA. Overall, the awards honored Greek life organizations and members for their devotion to service and leadership.
In his opening remarks, Dennis Campbell, the assistant director for events and operations for the Kent Student Center, said the awards presented provide a standard of achievement and recognition that all chapters should strive to emulate.
"We strive to model ourselves after the examples given to us by our organizational founders," Campbell said.
Throughout the evening, members from Panhellenic and Interfraternity Council presented awards in three distinct categories. These councils serve as governing bodies for all sororities and fraternities on campus.
The first category of awards presented were Fraternity and Sorority Life scholarships. These awards honor Greek life members who embody the principles of fraternity and sorority life.
The winners of these awards were Sage Mason from Sigma Delta Tau, Seth Young from Alpha Sigma Phi, Emily Krugman from Alpha Phi, Katelyn Smith and Audrey Ayars from Phi Mu and Alyssa Perez from Sigma Sigma Sigma.
The second category presented was the Standard of Excellence Awards. These awards are presented to chapters that represent excellence in five categories: scholarship, brotherhood/sisterhood, service and philanthropy, leadership and community.
"Each chapter was asked to write specific, measurable, attainable, relevant and timely goals for each standard and were judged on how they achieved their goals," Campbell said.
Out of all chapters, Delta Zeta and Delta Gamma sorority took home awards in all five standards.
"These chapters showed an exceptional commitment to all five standards, setting them apart to receive the highest level of recognition chapter of excellence," Campbell said. "Receiving this distinction is no easy task because chapters must show commitment in all five areas."
The final category presented was Individual Excellence Awards. These awards honored individuals committed to the values and principles on which their chapter was founded.
The winners of these awards were Sydney Brown from Delta Zeta, Sigma Chi chapter advisor Tom Ross, Sigma Delta Tau chapter advisor Sarah Helmick, Erika Enzbrenner from Delta Zeta, Megan Barron from Phi Mu and Nathan Jagodzinski and Matthew Brown from Sigma Phi Epsilon.
Former Sigma Phi Epsilon chapter president Matthew Clark beamed with excitement after receiving the Matthew Butts Greek Vision Award. This award honors a student who exhibited the values of leadership and service to others throughout their college career.
"Greek life has given me great leadership experiences within the Greek community and student leadership," senior fashion merchandising major Clark said. "Winning this award proves things are going right."
Concluding the ceremony, Campbell took a brief moment to thank all members of Greek life for their commitment and dedication to service.
"Tonight celebrated both chapter and individual success," Campbell said. "Both of these make a commitment over a long period of time to support our community."
In addition, Campbell mentioned the importance of celebrating incremental growth within Greek life.
"Our community has grown exceptionally over the past few years in terms of quality of programming and membership development in all of our five standards," Campbell said. "This is exactly what we were celebrating tonight."